Olá!
This week the virtual Culinary Tour Around the World tour brings us to Portugal.
Joan of Foodalogue is hosting this event to raise awareness for BloggerAid in its quest to alleviate world hunger.
Portugal is situated in Europe bordered by the Atlantic Ocean to the west and Spain to the east.
It's diverse cuisine has traditional dishes from different region. It also includes a large consumption of bacalhau (cod) as well as sardines and caldeirada. Meat recipes include beef, pork, lamb or chicken. .
While searching for Portuguese recipes, I discovered much to my delight, a recipe for Portuguese Paehla . Paella is one of my favourite dishes and I have always made it using a Spanish recipe. This Portugeuse recipe includes cod and the Portuguese sausage chourico. I chose to add shrimps instead of the clams and mussels called for in the recipe, sweet instead of spicy chourico and omitted the red peppers to accommodate my family's tastes. Nevertheless, the Paehla was exquisite!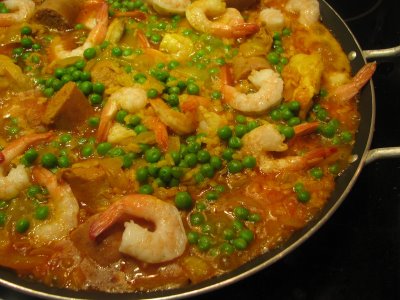 Now for dessert….I have had the pleasure of sampling a wonderful Portuguese pastry called Pastéis de Nata (cream custard tarts) which originated from Lisbon. Delicious tarts filled with a creamy custard, they are best eaten the same day they are made. Although I did not have the opportunity to bake these delicious cream custard tarts, I chose to list this recipe from Leite's Culinaria. This is a pastry that I definitely will have to make.

The Pastéis de Nata in the photo above and the chourico sausage used to make the Portuguese Paehla were purchased at the Portuguese bakery, Boulangerie Patisserie Guizot situated in Montreal, Quebec.
Don't miss the group round-up posts on February 11th at Foodalogue .
Visit BloggerAid to submit one of your original recipes to be included in their fundraiser cookbook that is being published this year. Deadline for recipe submissions is February 12th.
Come join us in Romania next week!