This week's recipe, Floating Islands, for Tuesdays with Dorie baking event was chosen by Shari of Whisk: a food blog on pages 401-402 of Dorie Greenspan's baking book Baking: From My Home to Yours.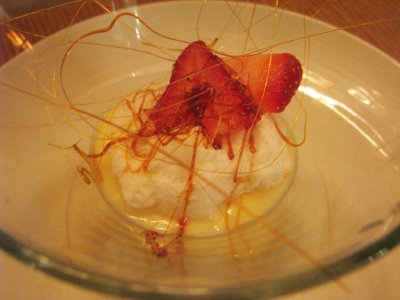 I have never eaten this Floating Islands dessert. The the recipe looked interesting – crème anglaise with cooked meringues topped with caramel sauce. I thought to myself I could do this.
The preparation of the crème anglaise (with the addition of lemon zest) went well. I found it a little difficult trying to shape the meringue into ovals with two spoons, so out came the ice cream scoop. Well I ended up with what looked more like floating blobs than floating islands, but I was determined not to despair. I burnt the caramel and still tried to sprinkle some on the floating islands. The caramel hardened and it was so dark it looked more like chocolate. So I decided to make the caramel again but not before eating the floating islands I had just assembled. They were delicious!
This time I didn't burn the caramel but when I dipped in the fork the caramel came out stringy. This was not the look I was going for, but that's all I had. By this time it was dark outside so there was not much light to take a good picture but at the end it all turned out well. My family loved the dessert!
Thanks Shari for selecting such a light and airy dessert. Visit Whisk: a food blog for the recipe and the Tuesdays with Dorie Bakers blogroll to view their Floating Islands Creations.