This week's recipe for the Tuesdays with Dorie baking event was chosen by Confessions of a City Eater! I love chocolate cake and was hoping that this recipe would be chosen otherwise I certainly would have chose it when it was my turn.
I thought this cake would make a perfect dessert for Valentine's Day especially baked in a heart-shaped pan. It was the perfect dessert – dense with chocolate and absolutely delicious.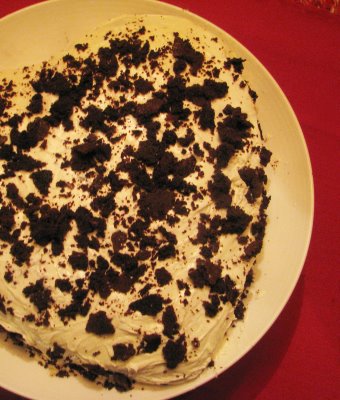 The cake recipe was easy to follow and baked nicely in the heart-shaped pan although I think it could have risen a bit more. For the icing, I decided to make use my butter cream recipe as I know there won't be any surprises. I have yet to establish a good relationship with the candy thermometer (marshmallows come to mind).
Thanks Stephanie for choosing such a wonderful, delicious dessert just in time for Valentine's Day.
You can find the recipe at Confessions of a City Eater or on pages 247-249 of Dorie Greenpan's baking book, Baking: From My Home to Yours.
Visit the Tuesdays with Dorie Blogroll to view more decadent Devils Food White Out Cake.