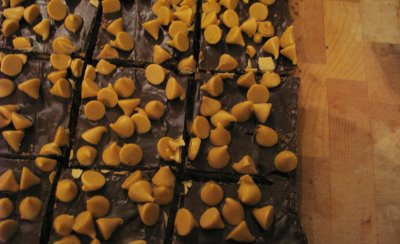 This week's Tuesdays with Dorie recipe, Whitney of What's left on the table? chose Caramel Crunch Bars on pages 112-113 of Dorie Greenspan's baking book, 'Baking: From My Home to Yours'.

I was debating whether to make these Caramel Crunch Bars because after reading the recipe I thought it sounded too sweet for my family's taste. Finally, this afternoon I decided to give them a try.
The recipe was easy enough to follow and to make. The dough was a big sticky but I managed to pat it down into the pan with an off-set spatula. The chocolate was easy to spread once melted and I topped bars with butterscotch chips.
Were the bars sweet? You bet, but they were delicious. My daughter is bringing them to school tomorrow and sharing them with her friends.
To view the TWD Bakers' Caramel Crunch Bars, visit Tuesdays with Dorie.