For this week's TWD baking event, Bridget of The Way the Cookie Crumbles chose Lemon Cup Custard on page 387 of Dorie Greenspan's baking book, Baking: From My Home to Yours.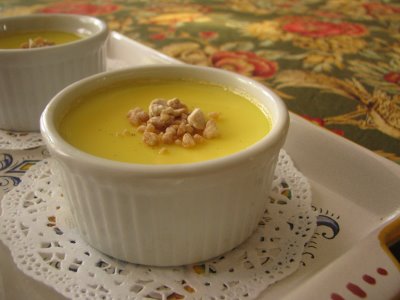 I was delighted with this choice as custard is one of my all time favourite comfort foods. I found this recipe easy to make and it was so delicious! Instead of the lemon, I opted to infuse the milk with a vanilla bean pod instead. Afterwards, I scraped the vanilla beans into the milk. At first glance, my family thought I had made creme caramel, their favourite custard dish. I topped the custards with maple sugar and they were the perfect dessert to serve at our Sunday lunch.
Would I make this recipe again – without a doubt. Only next time I will double it!
Visit Bridget at The Way the Cookie Crumbles for the recipe and the Tuesdays with Dorie Blogroll to view the TWD Bakers' versions of this recipe.
Next week's recipe: French Yogurt Cake with Marmalade Glaze chosen by ME!!