Today I will be hosting our traditional family Easter lunch so the kitchen was my domain yesterday as I embarked on a baking/cooking marathon.
Easter Menu 2009
~~~
Appetizers
Salmon Tartar
Stuffed Eggs
~~~~
Soup

Stracciatella with Fresh Spinach
~~~~
Main Course
Roast Leg of Lamb
Roasted small potatoes and asparagus
Sugared baby carrots
~~~~
Dessert
Ricotta and Rice Pasteria
Fresh fruit platter
Espresso, cappuccino, tea
~~~~
Appetizers:
The Salmon Tartar is actually made with smoked salmon. This is one of the specialities of Auberge des Gallant.
The Stuffed Eggs are a traditional Easter dish in my husband's family.
Main Course:
I have been making Roasted Leg of Lamb for Easter for years (and one extra just in case) . The lamb is marinaded in an olive oil/lemon/crushed garlic/rosemary marinade overnight, seasoned with sea salt and fresh pepper, and then roasted until it is just at the right temperature. My oven has a temperature probe so I just set the temperature (170 degrees) and moved on to other things.
The small roasted potatoes are coated with olive oil/rosemary/salt. Sometimes I add asparagus and onions. They are placed in the oven about one hour before the lamb has finished cooking.
Easter Desserts:
The Italian Easter Sweet Bread (Colomba Pasquale or Easter Dove) is the traditional sweet bread for Easter as is the Panettone or Pandoro for sweet bread for Christmas . This year I decided to make a few Easter Doves to give away as presents and due to a tight baking schedule, I adapted the traditional method of making the dough by hand to using the bread maker. This certainly raised some eyebrows among the bakers in my family, but the breads turned out quite good! The proof was in how quickly my family devoured the first 'test loaf'.'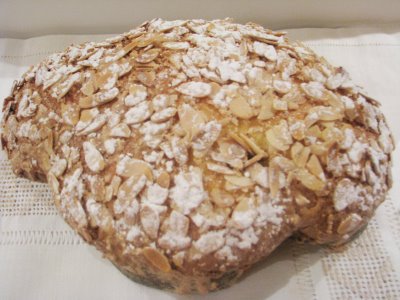 The
Strawberry Mascarpone Cream Tiramisu
i s sinfully rich and delicious. The Mascarpone cream is made without eggs and the sponge cake is sprinkled with a sweet syrup spiked with Amaretto liquor (which is optional).
The Ricotta and Rice Pasteria is a traditional pie at Easter in my husband's family. This year my mother-in-law passed on the recipe to me to make. I will find out today at lunch how it turned out! Hopefully I will be able to take photos of the food to include with the recipes I will post at a later date.
Below are some of the Easter desserts I have made in the past.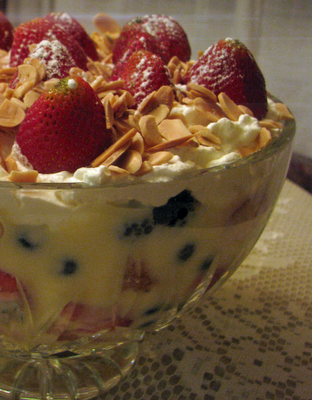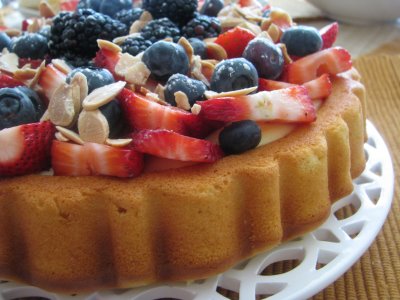 Round-up of Easter Desserts:
Italian Easter Sweet Bread (Colomba Pasquale or Easter Dove)
Strawberry Mascarpone Cream Tiramisu
Sponge Cake with Pastry Cream and Fresh Berries
Most Popular Easter Recipes by Donna of Spatulas, Corkscrews and Suitcases