To celebrate the 2nd blog anniversary of My Cookbook Addiction, I will be giving away some of my favourite cookbooks and prizes for the month of May!
I never gave blogging a thought until I had to set one up for a Web site I was working on (Auberge des Gallant). When I was setting up a 'test' blog to become familiar with the dynamics, I was wondering what to name the blog. Let's see, I love to knit, read, bake, cook and then I looked at the bookshelves stuffed with cookbooks around me – hence My Cookbook Addiction.
In the past two years I have had the pleasure of meeting so many wonderful, passionate food bloggers, joined baking/cooking groups, Daring Bakers and Daring Cooks (founded by Ivonne of Cream Puffs in Venice and Lisa of La Mia Cucina), Tuesdays with Dorie( founded by Laurie of Quirky Cupcakes) and learned so much about the world of food blogging.
I made a best cyber friend Donna (Spatulas, Corkscrews and Suitcases) whom I had the pleasure to meet and whose support has kept me blogging.
Talk about a small world, my husband met the husband of a Montreal food blogger at the workplace. During a conversation they discovered that their wives were food bloggers! My husband sent me an email from work that day asking me if I knew of the blog Under the High Chair. Of course I did! Aimée has a wonderful food blog with amazing photos and she is also hosting a book give-away for Mother's Day!
Then there are all the food bloggers who stop by to visit and leave such nice comments! Thank you!
The first cookbook giveaway will be Field Guide to Cookies
by Anita Chu of Desserts First.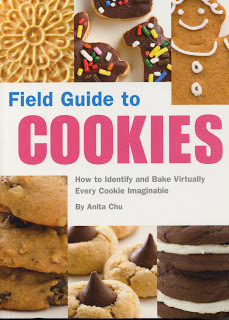 This is one of my favourite cookie cookbooks. It's jam packed with delicious cookie recipes that you will make over and over again. One of my favourite cookie recipes is Fig Bars (I love figs!!).
Cookie Basket – Gift Idea for Cookie Lovers
Bake a few different types of cookies from the book and include Field Guide to Cookies in the basket OR bake a few different types of cookies for yourself and keep the book.
In order to participate in this cookbook giveaway, just leave a comment stating why you would like to win this book and mention your favourite cookie recipe by May 9th. I will use the Random Generator to choose the winning comment and will post the winner on May 10th!
ciao for now..