Kelly of Baking with the Boys selected Fresh Mango Bread for this week's Tuesdays with Dorie Baking Event.
Although I am not a fan of mangoes, my family loves them so I thought they would enjoy eating this bread. It was quick and easy to make. I was a bit concerned about the batter at first because it had a dough consistency but it all came together at the end (just like it was written in the recipe).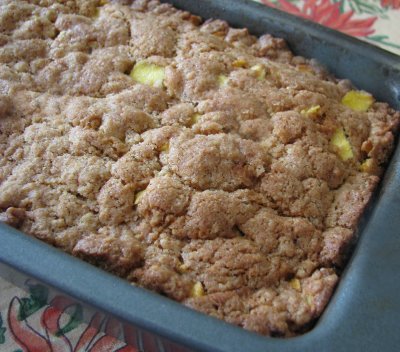 I omitted the raisins and substituted lemon zest for the lime zest. The Fresh Mango bread took only took 1 hour to bake instead of the 1 1/2 hours listed in the recipe. The result was a delicious moist bread with a crunchy topping. My family loved it! I thought it came great! I loved the combination of the cinnamon, ginger with the mangoes. The only complaint my family had was that there were not enough mangoes in the bread.
Thanks Kelly for choosing such a delicious, easy to make recipe. The Fresh Mango Bread Recipe, can be found on page 45 of Dorie Greenspan's baking book, Baking: From My Home to Yours.