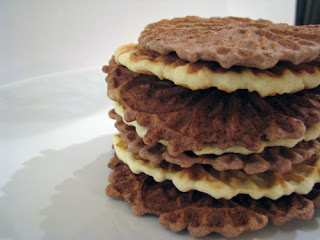 With Christmas only eleven days away, bakers all over the world are cutting, rolling, and shaping dough into delicious baked goods to share with their family and friends. Not me.  My wall oven which was purchased at Sears Canada hasn't been functioning since October. It's only three years old.   No baking since October!!!  I have had three visits from an outsourced  technician and each time there was another part to be ordered or a second person needed to remove the oven from the wall. I have called Sears so many times that I feel like I have a relationship with the Parts and Service department.
The service representatives that are fortunate to take my calls have been quite understanding  and apologetic which I appreciate but my oven still isn't functioning and I am past the point of no return.  So, if my oven is not fixed within  the next 8 working days, we will be having a stove top Christmas with pizzelle and steamed pumpkin pudding for dessert.  Does anyone have recipes they would like to share for stove top desserts?
Actually it's a family tradition to make
pizzelle
for Christmas.  Pizzelle are only one type of cookies I make along with  biscotti, cucidati, gingerbread.  cookies, and other yummies like panettone.   At the beginning of  December each year,
my pizzelle maker
is working full force making dozens and dozens of pizzelle for the holidays.  The recipe is quite easy to make but I have to admit cooking the pizzelle is quite time consuming as my pizzelle maker can only cook two pizzelle at the same time. Believe me, it's worth every second!
Meanwhile I will be making pizzelle as I wait for a phone call from Sears.  Maybe they will send me a new oven for Christmas!
Update
Since I wrote this post, Sears finally replaced my wall oven in March 2012 after another another year of countless service calls.