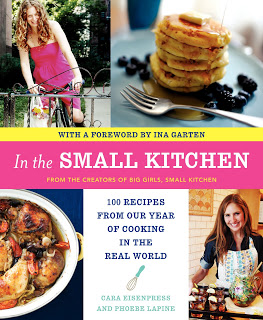 In the Small
Kitchen
by Cara Eisenpress and Phoebe Lapine, is a collection of over 100 delicious recipes inspired by their blog
Big Girls, Small Kitchens
.
This cookbook is a guide for the novice or more experienced quarter-life cooks to cook satisfying meals while staying on budget regardless of how small their  kitchen space.
Follow Cara and Phoebe as they cook and bake through their sophomore into the 'real world'. Rather than following the usual cookbook template of organizing recipes (appetizers, salads, meats, etc.), Cara and Phoebe chose a thematic approach to list their recipes and showcase the accompanying colourful photos.
The recipe instructions are well organized, easy to follow and include a prep section.
Try the Pesto Chicken Salad Sandwiches with Arugula and Sun-Dried Tomatoes when packing a picnic, or Cara's Classic Gooey Grilled Cheese when cooking for one.  Impress your date with Shrimp Risotto with Sweet Peas and Leeks or serve a sweet Chocolate Clafoutis for dessert when hosting a dinner party.
Cara and Phoebe also included a chapter on Meals, Menus, and a Year's Worth of  Occasions and Prep School.
In a Small Kitchen is just not about the recipes. It also makes a good read. I thoroughly enjoyed reading Cara and Phoebe's amusing stories and childhood memories. By the end of the book I felt I knew them personally. This is a fun cookbook which inspires cooks of all ages to get into the kitchen…and cook!
Tested Recipe:   Risotto with Shrimp, Peas and Leeks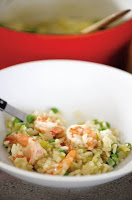 I have made risotto many times but wanted to test this recipe because first, it looked delicious, and also to try the cooking method.
I read the recipe through, made the sure I had all the ingredients on hand and followed the recipe exactly as written. Cooking the risotto does take same time and attention but the results are well worth it. The risotto was scrumptious!  I loved the flavour combination of the shrimps with sweet peas and leeks. 
Shrimp Risotto with Sweet Peas and Leeks
Makes 2 servings
Ingredients
½ lb peeled and deveined shrimp
2 ½ cup stock
1/2 cup white wine
3/4 cups Arborio rice
1 large shallot, sliced
1 leeks, sliced
1-2 garlic cloves, finely chopped
1 tbsp chives, finely chopped
1/2 cup peas
1 tbsp lemon zest
½ tsp salt
¼ tsp red pepper flakes
Parmesan (optional)
Prep work:
The key to a stress-free dinner that is not prepared way in advance is to complete all the prep work before you actually start cooking.
 On a large cutting board, slice the shallot and set aside. Trim the leeks, chopping off the dark green part so only the white shaft remains, and cutting off the root at the other end. Rinse very well in the sink—leeks can contain a lot of grit. Cut down the middle, and slice into thin strips one piece at a time. Set aside with the shallots.
On another section of the cutting board, finely chop the garlic, chives, and grate the lemon zest.
Rinse your shrimp, and pat dry with a paper towel. With your hands, remove the remaining shell by squeezing the top of the tale and putting gently. Roughly chop (1 shrimp should become 2-3 pieces).
 Open your wine.
Place your stock in a large measuring cup or bowl. Heat in the microwave for 3-4 minutes until warm (you may have to do this right before you begin cooking the risotto).
On the stove:
 In a large deep skillet or medium Dutch oven, sauté the shallot and leek in 1 tbsp of olive oil. Once translucent, about 3-5 minutes, add garlic and sauté for an additional minute. Add the rice and stir so it becomes coated in the oil and leek mixture. Cook for about 3 minutes to get the rice lightly toasted. Add ½ tsp of salt and the wine and cook, stirring, until nearly evaporated, about 1 minute. Return the heat to medium, and add ½ cup of stock, stirring occasionally until the rice has absorbed the liquid.
 This portion of the cooking process will take some attention and instinct. You don't need to be constantly stirring, but you also want to make sure that the rice does not stick to the bottom of the pan. When the liquids are almost absorbed, add the next ½ cup of stock and repeat. Once the stock is almost gone, and the risotto has only a slight bite to it, add the peas, shrimp, lemon zest, and chives along with any of the remaining liquid.
Mix to combine and allow to cook, stirring less frequently now. When the shrimp have taken on a pinkish tint, and the peas cooked through, you are done! During this time, if the liquids have absorbed, don't be shy in adding more stock. This is not a precise science, it may end up being more or less than 2 ½ cups.
Taste for seasoning, and serve immediately.
 In the Small Kitchen
ISBN: 978-0-199824-9
Authors:  Cara Eisenpress, Phoebe Lapine
Publisher:  HarperCollins
Soft cover, 300 Pages
US $21.99   CAN  $23.99
 In the Small Kitchen Cookbook GIVEAWAY
Thanks to
HarperCollins Publishers
, I have two copies of
In the Small Kitchen
to giveaway.  To win one of the copies, leave a comment below on why you would want to own this cookbook.
Two winners will be chosen by Random Generator and will be announced next Friday, July 1st.
Good luck!