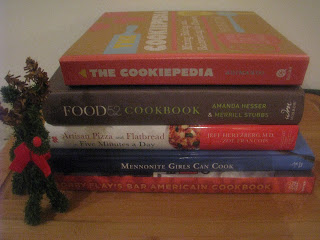 In the spirit of the holiday season, My Cookbook Addiction will be posting a different cookbook giveaway throughout the months of December 2011 and January 2012.
Cookbooks and more cookbooks…..
I live in cookbook bliss – my cookbook collection has extended from the bookshelves in the family room to bookshelves in my home office. There are stacks of cookbooks on my desk to be reviewed and always one or two on my night table to browse through when I go to bed.   The only time a cookbook is in my kitchen is when I am trying out recipes as there is no space in my kitchen to accommodate a dedicated cookbook bookshelf.  I still don't how I missed that glitch in our kitchen renovation plans.
Most cookbook reviews I write are from cookbooks kindly sent to me from the publishers who are unknowingly encouraging my cookbook addiction.  For this, I thank them all.
Don't miss the first Holiday Cookbook Giveaway on Wednesday, December 14th!