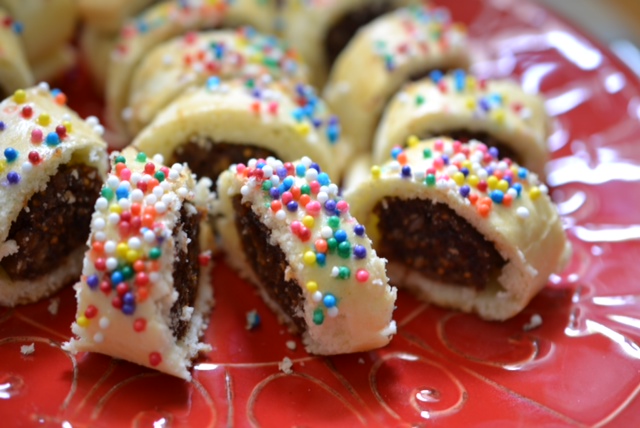 Cucidati – Sicilian Christmas Fig Cookies
This time of year is all about mixing batters, cutting, rolling, and shaping dough to bake delicious homemade cookies and desserts for the holidays. T'is the season for sharing so I am posting one of my favourite Christmas cookie recipes, Cucidati – Sicilian Christmas Fig Cookies to share with you.
My Christmas baking list has expanded throughout the years to include cherished traditional family cookie recipes, cookie recipes shared by friends and cookie recipes from favourite cookbooks, but the cucidati cookies still rank at the top of the list for me.
My Mom used to talk about eating cucidati in Palermo  when she was a young girl.  My Nonna  would send her to the pasticeria (bakery) to buy the cucidati and my Mom would sneak a few before returning home.  It's that image that makes these cookies all the more special to me. Since we don't have a traditional family recipe for cucidati (my Nonna and Mom were not bakers), I researched many Italian cookbooks and found different versions for making them.  My recipe is a result of adapting several of the recipes to my make my own version.  According to my Mom, they tasted the same as the ones she ate in Palermo.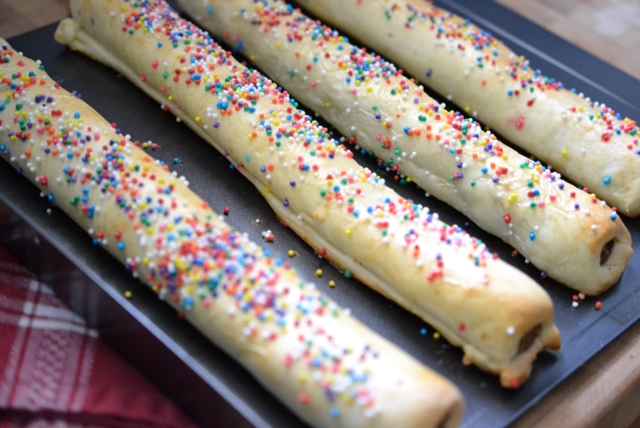 The cucidati  are made with a buttery dough filled with a mixture of figs, raisins, nuts, honey, zests, and scented with cinnamon.  They're easy to make and to store.  Since I begin my Christmas baking at the end of November, I freeze the logs in freezer bags.  The cucidati also one of  the cookies I include in my Christmas  gift cookie boxes. I just take the cucidati logs out of the freezer and cut them in 1/2 slices with a serrated knife.  They're easier to slice when frozen. Then, layer them in the cookie boxes (or tins) with parchment paper between each layer. I always put aside a cookie box just for Santa!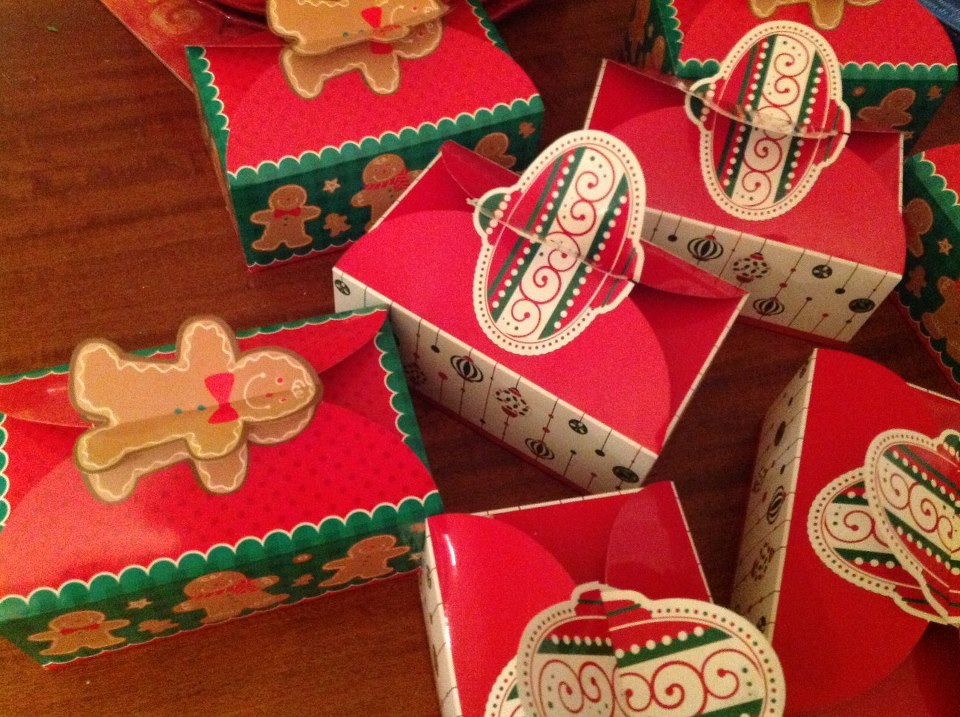 While my  kitchen is filled with the sweet scent of baking, I carefully package cookies for family and friends and stash them away for holiday cookie platters.  I sneak a few of the cucidati to enjoy with an espresso before packing them, and envision my Mom sneaking a few to eat on her way home from the pasticceria. The apple doesn't fall from the tree.
Cucidati – Sicilian Christmas Fig Cookies Recipe
Cucidati Christmas Sicilian Fig Cookies
The Sicilian Fig cookies are made with a buttery dough filled with a mixture of figs, raisins, nuts, honey, zests, and scented with cinnamon.
Ingredients
Dough

4 ½ cups all-purpose flour
3 teaspoons baking powder
⅔ cup sugar
¾ teaspoon salt
1 tablespoon freshly grated orange zest or lemon zest
1 ¼ cups butter (room temperature)
1⅓ cups cold water
1 egg beaten with 1 tsp water for egg wash.
Filling
3 cups dried figs, stems removed
3 cups seedless raisins
2 cups almonds, toasted
2 cups walnuts , toasted
¾ cup honey
4 tablespoons orange juice
4 tablespoons freshly grated orange zest
½ cup fig jam
1 tablespoon cinnamon
multi-coloured sprinkles
Instructions
Dough

In bowl of food processor fitted with metal blade, combine 4 cups flour, baking powder, sugar, salt and orange zest. Pulse to mix.
Cut butter in cubes; add to flour mixture and pulse to blend until butter resembles the size of peas.
Add water gradually and mix until ingredients hold together. If sticky, add remaining ¼ flour.
Remove dough from food processor bowl and place on a lightly floured board.
Knead dough for a few minutes until dough is smooth. Divide equally in 4 and shape each piece into a disc.
Wrap each disc in plastic wrap and refrigerate while preparing the spiced fig filling.
Fig Filling

Combine figs, raisins and nuts in bowl of food processor fitted with a steel blade.
Pulse until coarsely chopped.
Add the honey, orange juice, zest, fig jam, and cinnamon to the fig mixture.
Pulse until well combined. Mixture will be sticky.
Remove fig mixture from food processor bowl and place in medium sized bowl.
Cover bowl with plastic wrap and refrigerate until ready to use.
Shape the cucidati cookies

Preheat oven to 400° F.
Line 4 cookie sheets with parchment paper.
Bring dough to room temperature and cut each disc into 2 pieces. You will have 8 pieces of dough.
*On a lightly floured board, roll out one piece of dough to form a rectangle (approximately 4x12 inches)
Divide filling into eight pieces.
*With floured hands, roll 1 piece of filling into a 12 inch log.
Place the fig long in the center length of each rectangle. Fold one side over filling and fold the other side to overlap.*
Repeat from * to * 7 more times.
Place 2 fig logs seam side down on prepared cookie sheet.
Brush top of logs with egg wash and top with multi-coloured sprinkles.
Bake for 20 minutes or until logs are lightly browned.
Cool on cookie sheets for 10 minutes.
Remove logs and place on cutting board.
Cut each log into 12 slices.
Notes
If freezing the cucidati, place logs into freezer bags. Cookies can be frozen for up to one month. Defrost at room temperature.