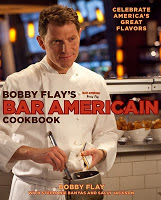 The winner of Bobby Flay's Bar American  in the first Holiday Cookbook Giveaway  is ………
Evelyne Budkewitsch of Cheap Ethnic Eatz.

Evelyne's name was chosen by using the Random Number Generator.  Congratulations Evelyne!  I am sure you will enjoy the recipes. 
Thank you to those who participated this cookbook giveaway.
Due to marathon baking and celebrating the festivities this coming weekend, the next Holiday Cookbook Giveaway will be posted on Tuesday, December 27th.  So, come and visit for a chance to win another fabulous cookbook.
Happy Holidays everyone!  May you eat, drink and be merry with all your loved ones.