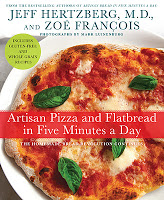 The winner of  the Artisan Pizza and Flat Bread in Five Minutes a Day is Jane!
Jane's comment (listed below) was randomly chosen using the Random Number Generator at RANDOM.ORG.
Jane said…
The Pizza Margherita looks just like the many we ate in Italy – can't wait to try that recipe!
Congratulations Jane!  You're going to love making pizza from this book.
Thank you to those who participated. Another cookbook giveaway will be announced next week. 
Remember, cook what you love, and love what you cook!