Hello, my name is Evelyne from Cheap Ethnic Eatz, a blog focusing on food with an ethnic flair. My city of Montreal is a wonderful place brimming with small worldly restaurants and ethnic grocery stores, both a continuous source of inspiration for my recipes.
Montreal is also the common link between Liliana and me. I have had the pleasure to break bread a few times with Liliana. I was so thrilled when she asked me if I would guest post on her blog. She has been incredibly supportive and is truly a generous person. I knew right away I had to prepare a sweet treat to best represent her sweet personality. So without further ado, I offer you a classic little Japanese sweet.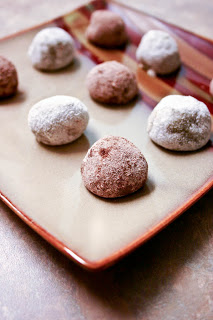 Usually known simply as mochi, this treat is more accurately named Daifukumochi (Daifuku for short). Daifukumochis are made with mochi, a sticky rice cake, shaped like a ball which is stuffed with a sweet paste or or small fruits inside. The most common sweet stuffing is red bean paste but you can use any sweet paste or spread you like as well.
The result is a unique little treat consisting of a smooth chewy shell with a sweet center. Once cooked, they must be coated with a fine layer of corn starch or other coating to prevent them from sticking together. The recipe I am suggesting below is a creative twist with peanut butter. I also made some with Speculoos.  You could try it with jam, lotus paste, and even Nutella!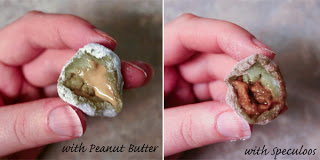 My first attempt at making mochi was with the

microwave technique

but this one is boiled and I much preferred the final result. Next time I will try steaming them in steamer basket over a pot of simmering water for 25 to 30 minutes.
1 cup glutinous rice flour
1/8 cup powdered sugar
1 tsp matcha powder (optional)
1/2 cup water
1 tsp oil
crunchy peanut butter
In a bowl mix the glutinous rice flour, powdered sugar, matcha, water (a bit at a time you may need less) and oil with a fork. Knead until you get a smooth ball.

Divide the dough into 18 hand rolled balls. Flatten each ball with your hands.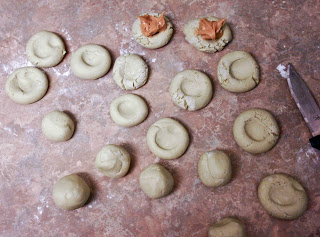 Take each piece of the flattened dough; scoop about a teaspoon (or less) of peanut butter into the center. Gather up the edges into the center and roll it into a ball again. Make sure the filling is well sealed inside.
Bring a large pot of water to a boil. Place the mochi dough pieces in the pot, you may want to do this in 2 batches so they don't overcrowd. Once the dough pieces float, they are cooked. Remove with a slotted spoon onto a paper towel briefly to absorb the water.


Coat the balls generously with your choice of coating. Let them cool slightly before eating.
Coating possibilities:
– sesame seeds
– desiccated coconut
–  glutinous rice flour, corn starch or potato starch
– 1 part glutinous rice flour, 1 part cocoa
– 1 part roasted soya bean powder, 1 part powdered sugar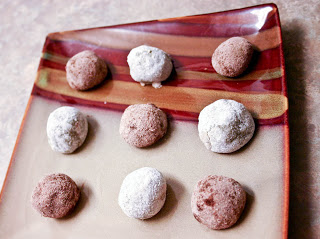 Thank you Evelyne for your kind words and sharing your Daifuku recipe! Visit Cheap Ethnic Eatz for amazing local and ethnic recipes as well as Montreal restaurant reviews.