A year ago today I lost my Mom from complications of Alzheimer`s.  She was 87 years old. Within the  days  following her death, my sister Silvana and I were running on adrenaline planning our Mom`s funeral. Since our Mom was being transported from Ontario to a mausoleum in Quebec to be reunited with our father, we had to make arrangements in two funeral homes.  Once all the details were finalized, we finally faced the reality that our dear, dear Mom was gone.
The day before the funeral,  Silvana`s family (daughter Lauren, her son Jarrod, and son-in-law Matt) gathered in my home with my family (my husband Frank and daughters Camelia and Michaela).  Silvana and I decided  to pay tribute to our Mom by making some of her signature dishes – Caponata (eggplant sweet and sour relish) and Arancini (fried stuffed rice balls).  The men were assigned to BBQ duties (grilled vegetables, chicken, sausages) while our daughters took charge of the kitchen (this time we were the sous-chefs).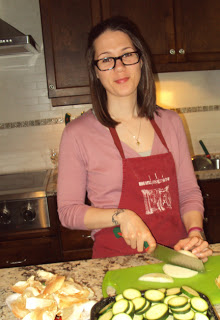 Lauren had already done some prep work for the arancini and caponata.   We worked in mother-daughter teams – one team chopped, and fried the eggplants for the caponata and one team began assembling the arancini to be fried.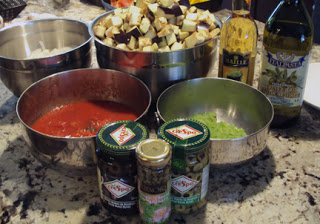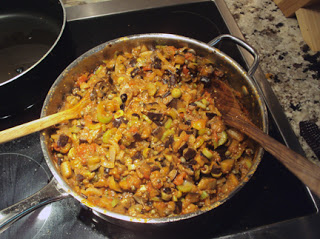 Once the eggplants were fried, they were mixed with a tomato sauce made with olive oil, onions and celery.   Then the capers, green olives, sugar and vinegar are added.  Before adjusting the seasonings, it`s better to let the caponata rest to give the flavours a chance settle and blend.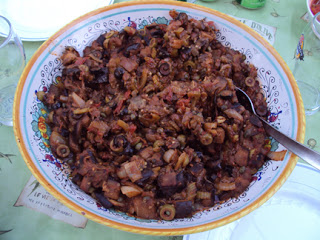 To assemble the arancini, cold risotto is used to form the rice balls.  Lauren had already made the risotto earlier in the day and added the eggs and Parmesan cheese before placing it in the refrigerator to cool. Once the rice ball has been formed, a dent is made to add the a cube of cheese and meat sauce and then the dent is covered with more rice to round out the rice ball.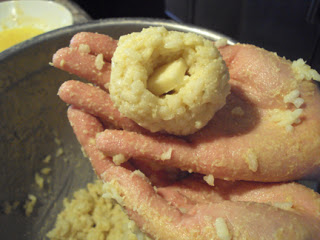 The stuffed rice ball is then dipped in beaten eggs, and covered in breadcrumbs before frying.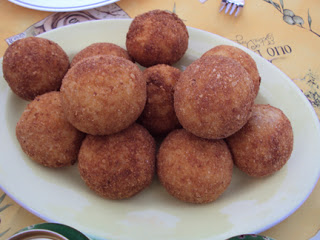 Arancini
Because we are of the mindset that we should always make extra food in case we run out, we also made Coconut Shrimp.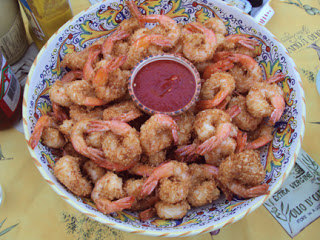 Coconut Shrimp
My sister and I often talk about our Mom. She was a strict and fair Mom.  A Mom that worked hard to make sure her family was well provided for.  Even as she was struggling with Alzheimer's she tried her best to keep her dignity.  We are so thankful for all she taught us and all she did for us.  Most of all, we cherish the good memories.
Silvana and I were so proud of our daughters that day.  It brought us so much comfort to be cooking with our daughters the same dishes our Mom taught us to cook.  Our Mom would have been so happy and proud of her granddaughters and to see us all cooking together.  But I suspect she also was with us in the kitchen that day making sure the tradition continues.


RECIPES:


My Mom did not have written recipes for caponata or arancini.  She learned how too make these dishes from her Mom and taught us the same way.The recipes below are my written interpretations which do taste just like my Mom's although she made the best.


Caponata
Ingredients:
8 lbs small eggplants
2 lbs Spanish onions
1 whole celery
5 cups sliced green olives
2 cups capers (drained)
3 28 oz. cans of diced plum tomatoes
2 tbsp. sugar (to taste)
2-4 tbsp. white vinegar (to taste)
3-4 tbsp olive oil (for frying onions and tomatoes)
vegetable oil for frying eggplants
salt
Preparation:
Wash eggplant and peel if desired.
Dice eggplants in large chunks.
Layer in colander, sprinkle with salt between layers.
Let drain for approximately 2 hours.
Meanwhile slice celery (leaves included) and cook in boiling water until soft (do not boil if you like the 'crunch' of raw celery).
Slice onions and fry in olive oil until soft, add tomatoes.
Break tomatoes with wooden spoon.
Let cook for five minutes.
Add sliced green olives and capers.
Add sugar.
Taste the mixture. It should have a sweet and sour taste.
If it is too sweet add vinegar one tablespoon at a time and taste again.
Drain and pat dry the eggplant.
Heat oil in deep fryer on medium heat until hot enough to fry.
Deep fry the eggplant in batches in vegetable oil until browned.
Drain on paper towels.
In a very large bowl (or bowls) layer the sauce mixture with the eggplant.
Let cool.
Then mix until all the ingredients are well blended.
Wash and sterilize 8-9 16 oz. mason jars. Fill jars and cover. Caponata can be stored refrigerated up to one month. The caponata tastes better the next day once the flavours have had a chance to settle and blend.  Serve at room temperature.
Sicilian Arancini Recipe
Ingredients for the Risotto:
2 tablespoons olive oil
1 medium onion, chopped
2 cups uncooked Arborio rice
6 cups chicken broth
1 teaspoon saffron
1 cup grated Parmigiano-Reggiano cheese
2 eggs, beaten
How to Make the Risotto:
Heat the olive oil in a medium saucepan over medium heat.
Add chopped onion and cook until soft.
Add the 2 cups of rice all at once and stir to coat well.
Add the broth, 1/2 cup at a time, stirring the rice until the broth has been absorbed between each addition.
Once the risotto is cooked and creamy, remove from heat.
Transfer the risotto to a large bowl to let cool.
Add the saffron, beaten eggs and grated Parmigiano cheese to the cooled rice and mix well.
Refrigerate until ready to use. Cold risotto will be easier to handle when shaping the arancini.
How to Make the Meat Ragu:
In a medium-sized saucepan, over medium heat, heat the olive oil.
Add the chopped onion and cook until soft.
Add the sausage meat or ground beef.
Break up the meat with a wooden spoon, and cook until the meat is not longer pink.
Add the chopped tomatoes and seasonings.
Cook for about 30 minutes and then add the frozen peas.
Simmer the sauce for another 30 minutes or until it has thickened.
Remove from heat and let cool.
Shape the Arancini:
Ingredients:
2 egg, beaten
2 cups breadcrumbs ( or more)
cooking oil (vegetable or canola)
Method:
Beat the eggs in a medium bowl.
Add the breadcrumbs to a large plate.
Line a large tray with paper towels.
Remove risotto from the fridge. Place 1 cup of rice in the palm of your hand and shape into a cup.
Place 1 tablespoon of the meat ragu in cup and cover with rice to form a round ball.
Roll the arancino in the beaten eggs and then in roll in the breadcrumbs.
Set on the tray.
Continue to make the arancini using this method until all the risotto has been used.
There should be 10 -12 arancine.
Place tray in fridge for 30 minutes.
Line another tray with paper towels.
Heat 3-4 inches of the oil in a deep sauce pan or heat deep fryer to 375 degrees F.
Fry the arancini no more than 3 at a time until golden brown.
Remove with slotted spoon and place arancini to drain on tray lined with paper towels.
Arrange arancini on platter and serve hot or at room temperature.