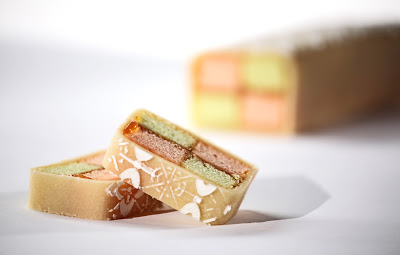 Classic Battenburg Cake
The Recipe to Riches series broadcast on Food Network Canada offers Canadian home cooks a chance to  present their unique recipes in seven culinary categories. A  panel of four judges choose three finalist from each category to test their recipes for mass production.  The winning recipe of each category is announced by the Executive Chairman of Loblaw Companies, Galen Weston and the product will be sold at select Loblaw stores across Canada. The winning recipe will also be eligible to win the grand prize of $250.000.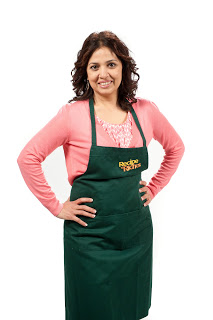 Cherilynn Balachandar was one of the three contestants chosen by the judges for her lovely Classic Batten Burg Cake recipe in the 'Cakes, puddings and pies' category. I had the pleasure to interview Cherilynn about her experience as a contestant on Recipe to Riches. 
Interview with Cherilynn Balachander
MCA – Who or what motivated you to audition for Recipes to Riches?
Cherilynn –  My neighbour and good friend first motivated me to audition for Recipe to Riches as she too was auditioning in a separate category.  Having lost my husband a few months then, we both felt that this would serve as a distraction and help me overcome my grief.  And that is how it all started…..
MCA – You presented a lovely Battneburg Cake to the judges.Why did you particularly choose this cake?
Cherilynn – The Classic Battenberg was my late husband's favourite cake.  We first had a taste of this decadent English treat on one of our trips to England.  I've also made this cake for some of my friends and it has always become a conversation piece.  It's intriguing to see how the four squares come together.  Each slice is a delight to the eyes and taste buds.  Besides, this cake is not easily available in Canada.  Keeping that in mind, I could see a potential market for this cake and this could be a good way to introduce it.
MCA – How did it feel to be chosen as one of the three contestants for the Cookies, Puddings and Pies segment of the show?
Cherilynn –  It definitely made me feel special being chosen as one of the three finalists.  I always knew the Battenberg was a unique and exquisite cake and so felt that the judges had made a good choice in selecting me.  I was thrilled that they shared my vision too.
MCA –  Would you share your overall Recipes to Riches experience?
Cherilynn – Auditioning for this competition and receiving the Gold ticket, transported me to a world of daydreaming.  Bonding with the other two contestants and sharing our fears and hopes was so real.  While the batch-up challenge was daunting and stressful, the experience was amazing.  There are so many components that go into creating a show, which you get to experience only as a finalist and this was incredible!!!  It was a chance of a lifetime which some people wait forever.
MCA – What have you learned from this experience?
Cherilynn – This experience has thought me that no matter what the outcome you come out stronger.  You never know when that golden opportunity can come your way.  Despite your troubles, life can be wonderful if you keep a positive attitude and enjoy the moment.  You have to believe in yourself and know that greater things are in store for you.
MCA – Did this experience encourage you to continue baking and maybe take it to the next level?
Cherilynn –  This short stint with Recipe to Riches definitely drew more attention to this extraordinary cake.  Orders have poured in from friends, family and co-workers and this has kept me busy.  It gives me great pleasure knowing that this cake is enjoyed by one and all.
 MCA –  Most bakers are also creative in many crafts.  What sparked your interest in baking?  Do you have  any other hobbies?
Cherilynn – Growing up in Mumbai, India, I've always been a help to my mum in the kitchen.  This definitely sparked an interest in baking.  It got better when I joined Cathay Pacific as a flight attendant and went to live in Hong Kong.  Baking, not only reminded me of home, but also helped unwind after a long flight.
When I started a family of my own, I only trusted home baked goods and so the baking continued and still does. Besides being a baking enthusiast, I'm also very creative. Having moved to Canada 12 years ago, I treated myself to some baking/decorating classes at Wilton, McCalls, Goldas and Bonnie Gordon.  This helped expand my knowledge and fine tune my artistic skills.  From all the hobbies that I have (sewing, painting, mosaics, quilting), baking and decorating cakes takes centre stage.
I have a regular job as a Pension Administrator but still makes time to take orders for special occasion cakes.  However, I try to limit them as I want to enjoy what I do and focus on quality.  Just like the Battenberg, each cake that I make is a piece of art – labour of love!!!
 MCA –
Thank you Cherilynn.  I am looking forward to baking your Battenburg Cake and wish you much success in your baking endeavors.
Classic Battenburg Cake Recipe
Permission to use photos and the Classic Battenburg Cake recipe link granted as a courtesy of  
Recipes to Riches.