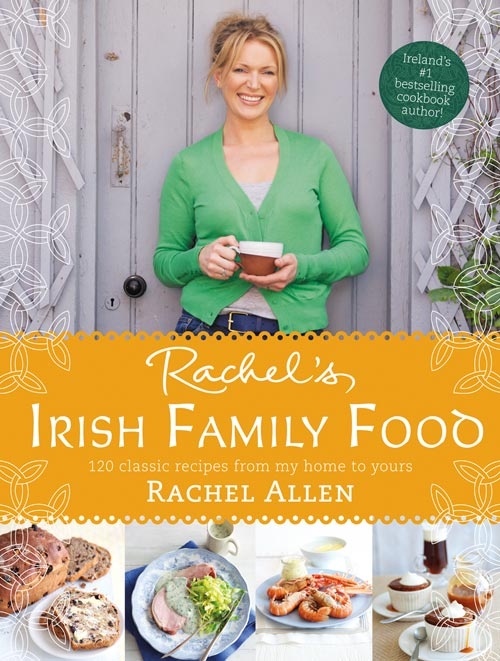 Rachel Allen is not only a TV chef (Rachel's Favourite Food) and writer, she also teaches at the Ballymaloe Cookery School in Ireland.  In her new cookbook, Rachel's Irish Family Food: 120 classic recipes from my home to yours
 , she shares 120 of her favourite Irish classic recipes.
I haven't ventured into Irish cuisine before and making recipes from the Rachel's Irish Family Food cookbook was a good introduction. The Contents Page lists chapters for Soups and light meals, Weeknights and every day, Special family dinners, vegetables and side dishes, desserts and cakes, and breads and cookies.
The Recipes
The recipes in each chapter are well organized and easy to read, accompanied by colourful food photography.  The book also showcases stunning photos of Irish landscapes.  Apart from the recipes, I also enjoyed reading the passages about the food and people of Ireland's different provinces.
While browsing through the cookbook I bookmarked many recipes to choose from for my initiation into Irish cooking:  Kale and Bean stew, Fish cakes, Fish pie, Irish stew, Roasted garlic colcannon, Beef and red wine hot pot, Irish apple cake, Irish coffee meringue roulade, and Porter cake.   These are just  the recipes I chose among others such as Homemade pork sausages with colcannon and applesauce, Lamb chops with parsley and mint sauce, Kinoith pork casserole , Dublin coddle, and Chicken casserole with cheese herb dumplings.
Cook and share
My first bookmarked recipe was Roasted garlic colcannon from the vegetables and side dishes.  It's a hearty recipe for both vegetarians and non-vegetarians alike.  Any recipe that includes garlic works for me.  This is an easy to make recipe.  The combination of the potatoes and cabbages with the sweet taste of the roasted garlic is quite satisfying.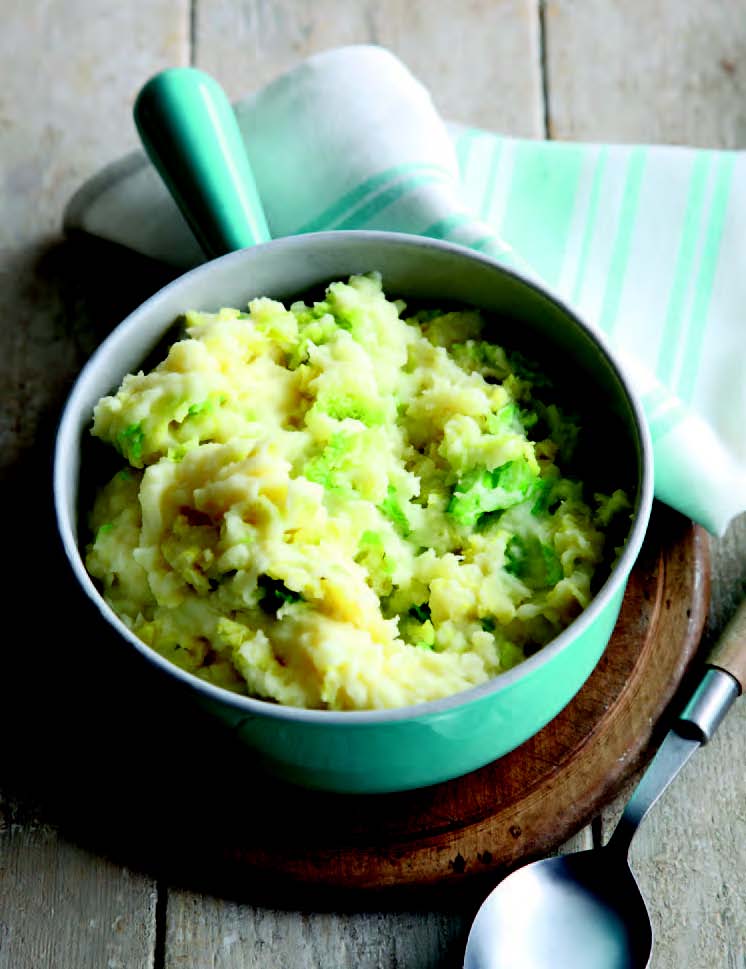 Roasted Garlic Colcannon
Recipe from Rachel Allen's Irish Family Food cookbook. Colcannon is a traditional Irish dish made from mashed potato and cabbage or kale. By roasting the garlic, its flesh is tempered and tamed to become sweet and mellow.
Ingredients
• 1 large bulb garlic, left whole and unpeeled
• 2 tablespoons extra virgin olive oil
• Salt and ground black pepper
• 1 sprig of rosemary
• 2¼ pounds (1kg) baking or russet (floury) potatoes, scrubbed clean
• 1 pound (450g) Savoy cabbage or kale
• 1 cup (250ml) milk
• 4 tablespoons (50g) butter, plus extra to serve
Instructions
Preheat the oven to 425°F (220°C/Gas mark 7).
Place the whole bulb of garlic in a small ovenproof dish, drizzle with the olive oil, season with salt and pepper, and add the sprig of rosemary. Cover with aluminum foil and roast for about 45 minutes, until the garlic has completely softened.
Put the potatoes in a large saucepan and cover with cold water. Add a good pinch of salt, cover with a lid, and bring to a boil. After 10 minutes, strain off two-thirds of the water, put the lid back on the pan, and cook over a gentle heat so that the potatoes steam for about 30 minutes, until they are tender.
Remove and discard the dark tough outer leaves from the cabbage (if using). Wash the rest and cut into quarters, removing the core. Cut the cabbage across the grain into slices about ¼ inch (5mm) thick. Place in another large saucepan, add the milk, and simmer for about 4 minutes or until tender. If you're using kale, cut out the tough center rib of the leaves, then slice and cook in milk as for the cabbage.
When the potatoes are just cooked, peel them while still warm and immediately mash them with the butter and some salt and pepper. Use your fingers to squeeze out the roasted garlic pulp and beat into the potatoes with enough boiling milk from the cabbage to make a fluffy purée. Then drain the cooked cabbage or kale, stir into the mash, and taste for seasoning.
Cookbook shelf worthy?
I really enjoyed cooking from this cookbook and learning about the cuisine, people and culture of Ireland. The 120 hearty Irish recipes and 100 beautiful colour photos it has to offer are a most welcome addiction to my cookbook collection.
In my next post, I will be making the Porter Cake recipe from the Rachel's Irish Family Food cookbook to celebrate St. Parick's day.
Acknowledgement
The  photos and recipe were excerpted from Rachel's Irish Family Food by Rachel Allen. All rights reserved. No part of this book may be used or reproduced without written permission from HarperCollins Publishers, 10 East 53rd Street, New York, NY 10022
Disclosure
The Rachel's Irish Family Food cookbook was sent to me by Harper Collins Publishers for review. The opinions are mine own. This post contains affiliate links.