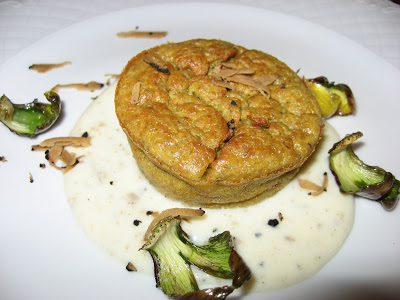 We spent the first afternoon of our culinary tour of Umbria and Tuscany in Spoleto, Umbria at il Panciolle  Restaurant.  Chef Mirella Argilli gave us a hands on cooking class on the method of making home made strangozzi, pasta unique to Umbria.
That night we had wonderful  supper at il Panciolle Restaurant, dining on Artichoke Flan with Truffle sauce, Strangozzi with Truffle sauce, Pork Tenderloin in apple glaze with porcini mushrooms and potatoes while sipping Sangiovese, Cabaret and Merlot wines. For dessert we had an exquisite Amaretto and Chocolate Semifreddo in Chocolate Sauce with an espresso of course.
The Artichoke Flan  was light and fluffy and paired well with the creamy truffle sauce. The fresh truffles gave the sauce a deep flavour.  Below is the recipe that Chef Mirella kindly shared with us.
Instead of  fresh truffles, bottled truffle shavings or truffle scented oil can be added  to the sauce according to your taste. If you prefer not to use truffles, you can substitute porcini or regular mushrooms. Chef Mirella sometimes adds grated Fontina cheese to the truffle sauce.


Artichoke Flan in Truffle Sauce
Author:
Chef Mirella Argilli of Il Panciolle Restaurant, Spoleto
Ingredients
Artichoke Flan

2 tablespoons extra-virgin olive oil to coat the molds
2 tablespoons bread crumbs to coat the molds
10 ounces fresh artichokes
2 tablespoons lemon juice
½ cup vegetable broth
2 tablespoons freshly grated Parmigiano Reggiano
2 large eggs, beaten to blend
⅓ cup plus 1 tablespoon heavy cream
salt and pepper to taste
Truffle Sauce

3 tablespoons unsalted butter
1 ounce flour
2 cups whole milk, heated to boiling
salt and pepper
2 tablespoons grated fresh truffle
Instructions
Artichoke Flan

Preheat the oven to 350 degrees.
Coat 6 soufflé molds with olive oil and bread crumbs. Refrigerate.
Trim the artichokes and place in cool water with the lemon juice to prevent oxidation.
Drain and slice the artichokes, and place in a pan with the broth.
Cook until very tender over medium heat.
Process the sautéed artichokes until smooth in a food processor.
Place in a bowl and add the Parmigiano, eggs, cream, salt, and pepper.
Fill the prepared molds and place in a roasting pan filled halfway with warm water.
Bake in the preheated oven 25 minutes, or until set.
Truffle Sauce

Melt the butter in a small sauce pan.
Add the flour and cook over low heat, whisking all the time, for a few minutes.
Do not let the flour brown.
Slowly add the warm milk, whisking all the while to avoid lumps.
Season with salt and pepper and cook until thick, about 10 minutes after it reaches a boil. Whisk in the grated truffle.
Spoon the sauce onto 6 plates.
Place a flan on each plate and serve.