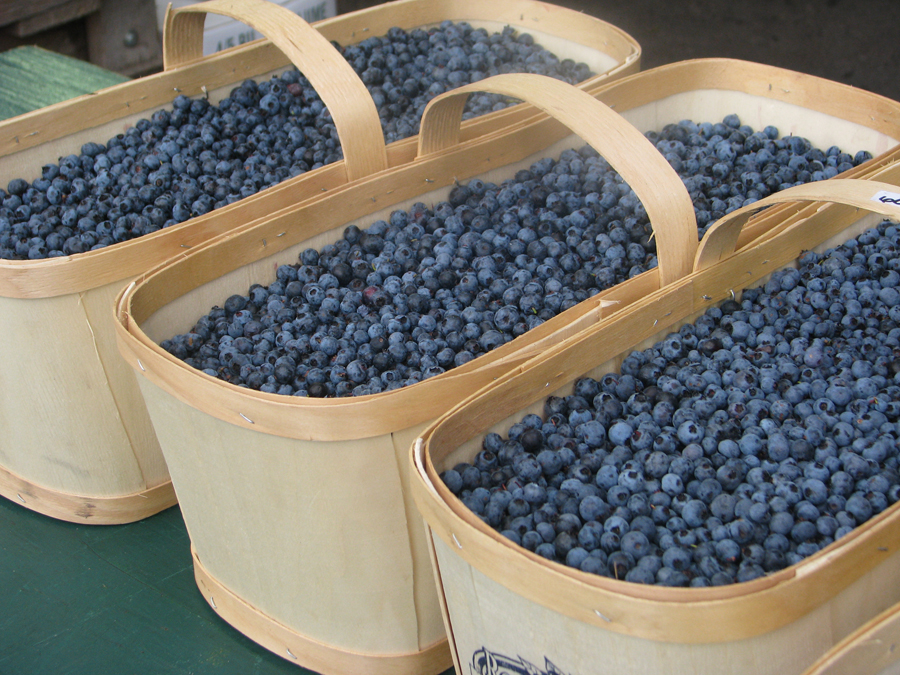 The Saguenay-Lac-Saint-Jean region of Quebec is the province's largest producer of wild blueberries. In fact, the residents of this region are referred to 'bluets' (or blueberries). Every year, the region celebrates the blueberry by hosting blueberry festivals such as the
'Festival du Bleuet à Dolbeau-Mistassini'
featuring a 60 inch pie made with 200 pounds of wild blueberries enough for 450 servings as well as, tastings of blueberry blueberry contests, baked goods, jams, jellies, syrups and chocolate-covered blueberries which are a specialty from the Trappist monks. This is a day event for the whole family to enjoy.
Blueberry season in Quebec starts from late July until the end of August. Cultivated and fresh wild blueberries can be purchased at the farmers' markets, road-side fruit stands, supermarkets or can be picked at blueberry farms. These small, sweet and juicy berries are not only known for their high content of antioxidants as well as fiber, vitamin C, and potassium.
I buy Lac-Saint-Jean wild blueberries at Marché St-Jean Talon in Montreal. My family mixes them with yogurt and pure maple syrup or adds them to smoothies for breakfast. I bake blueberry muffins, pies, cakes and save some for freezing to use throughout the year.
The Syndicat des producteurs de bleuets du Québec(SPBQ) (the Quebec association of blueberry growers and harvesters) French only website lists information on Québec's wild blueberry culture, health benefits, recipes, as well as pick-your-own site addresses and maps.
One of my favourite recipes from the SPBQ website is the Gâteau Bundt aux bleuets sauvages. It is a moist cake that is quick and easy to make. I serve it with plain yogurt or ice cream for dessert or an afternoon snack. The English recipe, Wild Blueberry Bundt Cake, can be found at the Canadian Living website. When wild blueberries are not in season, I make this cake with frozen wild blueberries or regular blueberries.
Valerie from A Canadian Foodie founded the Canadian Food ExperienceProject which began June 7 2013. As we (participants) share our collective stories across the vastness of our Canadian landscape through our regional food experiences, we hope to bring global clarity to our Canadian culinary identity through the cadence of our concerted Canadian voice.