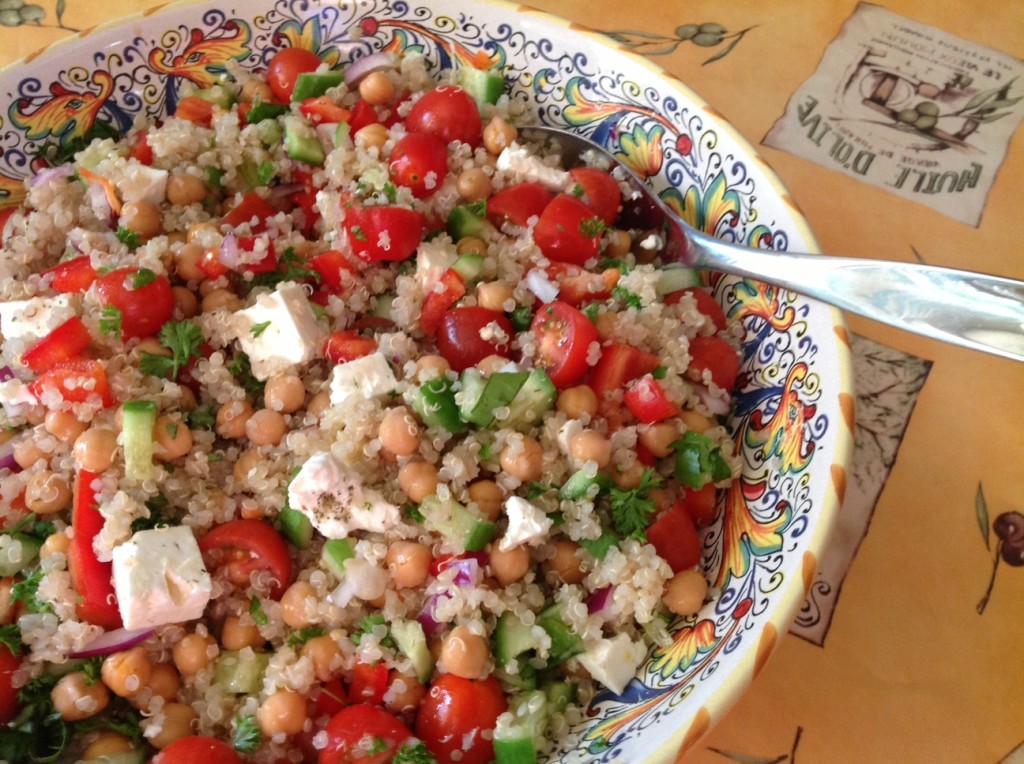 Chickpea Feta Cheese Summer salad is quick and easy to make for lunch or supper, especially for those 'I don't feel like cooking' summer days. It requires minimal cooking and is full of fresh summer vegetables and herbs. I recently added quinoa to my menu planning not only for its nutritional value but also as a replacement for rice and pasta.  It's a great base for salads and also adds texture to soups.
Tru-Roots Quinoa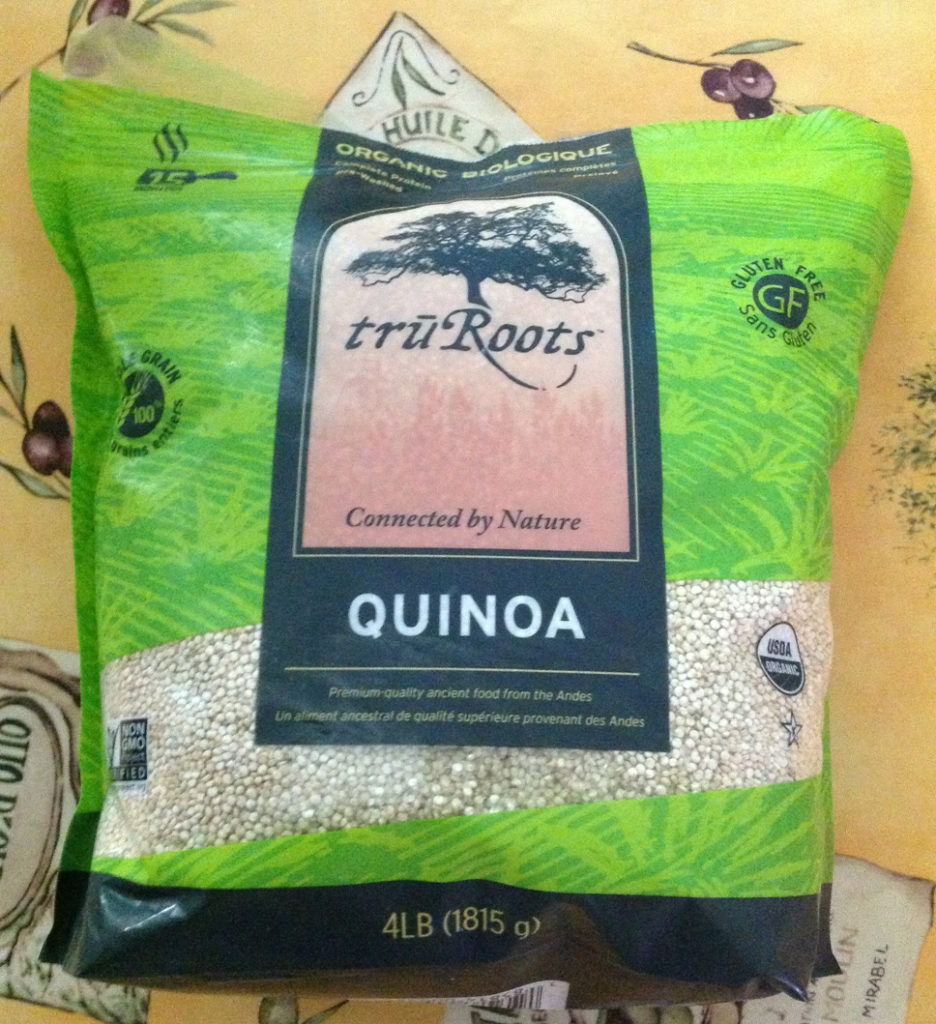 I used organic TruRoots Quinoa as the base for this salad. You can purchase it at health food stores or at selected Costco store.  As we know with Costco, it's here today and gone tomorrow, so I stock up whenever I find it. Cooked dried chickpeas soaked from the night before, can be substituted for canned chickpeas.  Usually, I used canned chick peas because in summer I have many 'I don't feel like cooking' days and that also includes I don't want to remember to soak beans the night before.  This is one of my family's favourites along with One-Pot Kale and Quinoa Pilaf.
 This recipe is not set in stone, so get creative  and make your own version of this quick and easy Chickpea Feta Quinoa Summer salad by using quinoa ( or any other grain you prefer) as the base and adding your favourite vegetables and add-ons.   The combinations are endless!
Chickpea Feta Cheese Quinoa Salad
A hearty quinoa salad with fresh vegetables and herbs that can be served as a main or side dish.
Ingredients
Salad

1 cup quinoa, uncooked
1 tablespoon extra virgin olive oil (optional)
2 cups water
1 red pepper, chopped
1 cup cherry tomatoes, halved
2 small cucumbers, diced
½ red onion, chopped
4 scallions, chopped
1 540 ml (19 oz) chickpeas, drained and rinsed
6 ounces feta cheese, cubed
1 tablespoon fresh oregano, chopped or 1 teaspoon dried
2 tablespoons fresh basil, chopped or 1 teaspoon dried
½ cup flat leaf parsley, chopped
Vinaigrette

Juice of one lemon
¼ cup extra virgin olive oil
Kosher salt and freshly ground pepper to taste
Instructions
Salad

In a medium-size sauce pan, combine the quinoa, water and extra virgin olive oil (if using) and bring to boil over medium-high heat.
Lower heat, cover and cook for 15 minutes. The quinoa will have absorbed all the liquid.
Remove sauce pan from stove and let cool for 5 minutes.
In a salad bowl, add the quinoa, red pepper, cherry tomatoes, cucumbers, red onion, scallions, chickpeas, oregano, basil and parsley.
Toss until ingredients are well combined.
Let salad stand at room temperature for 15 minutes to absorb the vinaigrette.
Vinaigrette

Notes
Chicken or vegetable broth can be substituted for the water when cooking the quinoa.

Serves 4 main or 6 side dishes.