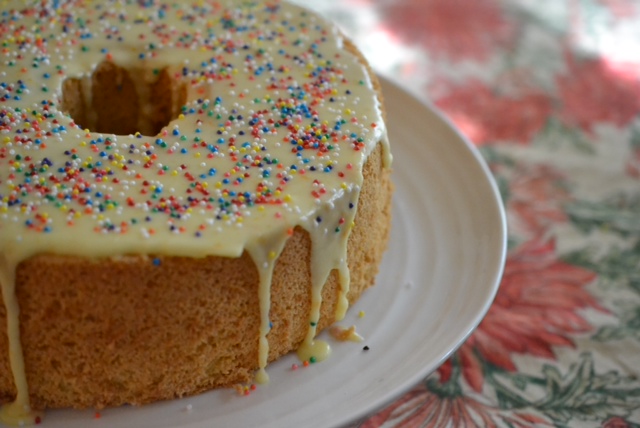 I am a first generation Canadian born to Italian parents. My Mom only cooked Italian food at home, so I have many cherished Italian recipes that I now cook for my family, but living in Quebec has given me the opportunity to embrace not only the Quebec cuisine but also that of many different ethnic backgrounds.
My Mom was a great cook, but she did not bake although she had a sweet tooth. So, unwittingly, I became the baker of the family. I began baking at the age of nine making cakes from cake boxes. At that time, there was no internet to search for recipes and my Mom did not own any cookbooks. What for? She knew how to cook.
Many years later, I found a recipe for Fluffy Sponge Cake with Orange Glaze in the now-defunct Montreal Star newspaper. The date was June 1976. I finally made a cake from scratch, and it did turn out nice and fluffy with a hint of orange flavour from the glaze. I was so proud!  Everyone in the family loved it. I have served this cake with fruit and whipping cream, layered it with pastry cream, and cut it in slices to use in a trifle.  It always tastes fresh and delicious. The Fluffy Sponge Cake layered with pastry cream and topped with the orange glaze has become my husband's official birthday cake.
Over the years, the newspaper clipping yellowed, and I finally made a photocopy of the recipe. Little did I know at the time, that clipping that Fluffy Sponge Cake recipe would lead me to own hundreds of cookbooks. I discovered there are countless sponge cake recipes, but I always treasure the Fluffy Sponge Cake recipe I clipped out of the newspaper many years ago.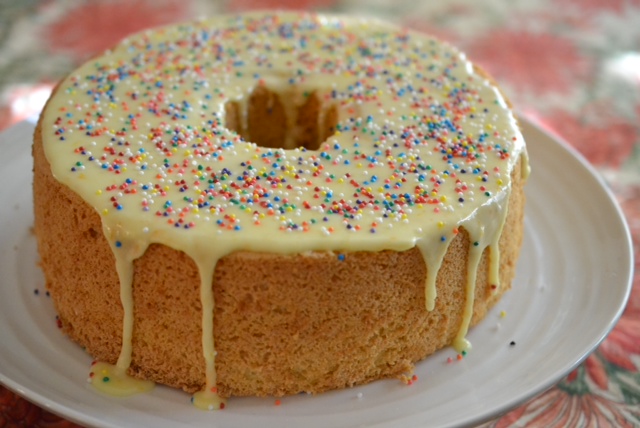 Valerie from A Canadian Foodie founded the Canadian Food ExperienceProject which began June 7 2013. As we (participants) share our collective stories across the vastness of our Canadian landscape through our regional food experiences, we hope to bring global clarity to our Canadian culinary identity through the cadence of our concerted Canadian voice.
Fluffy Sponge Cake with Orange Glaze
Author:
Recipe from the Montreal Star
Ingredients
Cake

6 egg yolks (room temperature)
1 ½ cups sugar
⅓ cup cold water
2 teaspoons vanilla
1 teaspoon almond extract
1 ½ cups sifted cake flour OR 1⅓ cups sifted all purpose flour
1½ teaspoons baking powder
½ teaspoon salt
6 egg whites (room temperature)
½ teaspoon cream of tartar
Orange Glaze

2 cups icing sugar
Pinch of salt
1 tablespoon grated orange rind
3 tablespoons orange juice (approximately)
Instructions
Cake

HEAT oven to 325 degrees F. Have an ungreased 10-inch tube pan ready.
BEAT egg yolks in small bowl with electric mixer until very thick and fluffy, about 5 minutes at high speed. Add sugar gradually, beating well after each addition. Turn mixer speed to low and beat in water, vanilla and almond extract.
SIFT measured flour, baking powder and salt together onto waxed paper and add to egg yolk mixture. Beat on low speed until smooth, scraping down the sides of the bowl often
WASH beaters very carefully to be sure all egg yolk mixture is removed. Beat egg whites and cream of tartar in large mixer until stiff. Add ½ of the egg mixture to the egg yolk mixture and fold together with a rubber scraper. Turn the blended mixture into the bowl containing the remaining egg white mixture and fold the two mixtures together gently but quickly.
POUR batter into the tube pan. Bake 60 to 65 minutes or until top springs back when touched lightly. Invert immediately on a funnel or the neck of a bottle and let hand upside down until cool. Turn out on cake plate, leaving top side down if you are icing the cake or turning top side up if you are serving it plain.
Orange Glaze

COMBINE all ingredients, adding enough orange juice to make mixture thin enough to run a little
SPREAD thinly on top of cake letting excess run down the sides.