Valerie from
A Canadian Foodie
founded the
Canadian Food Experience Project
which began June 7 2013. The
participants
share their collective stories across the vastness of our Canadian landscape through our regional food experiences. We hope to bring global clarity to our Canadian culinary identity through the cadence of our concerted Canadian voice. Our topic for the month of October is Preserving – A Canadian Tradition.
The only food I remember my family preserving is tomatoes.  It was a Labour Day weekend ritual.  My parents would buy bushels of Roma tomatoes and bunches of fresh basil from the Jean-Talon market in Montreal and store them in our garage in preparation for the event which was held at my aunt Maria's house. My mom, along with the rest of her siblings and some of my cousins, would arrive at her house early Saturday morning with their bushels of tomatoes and begin the process of making the Passata di Pomodoro (Preserved Tomato Purée).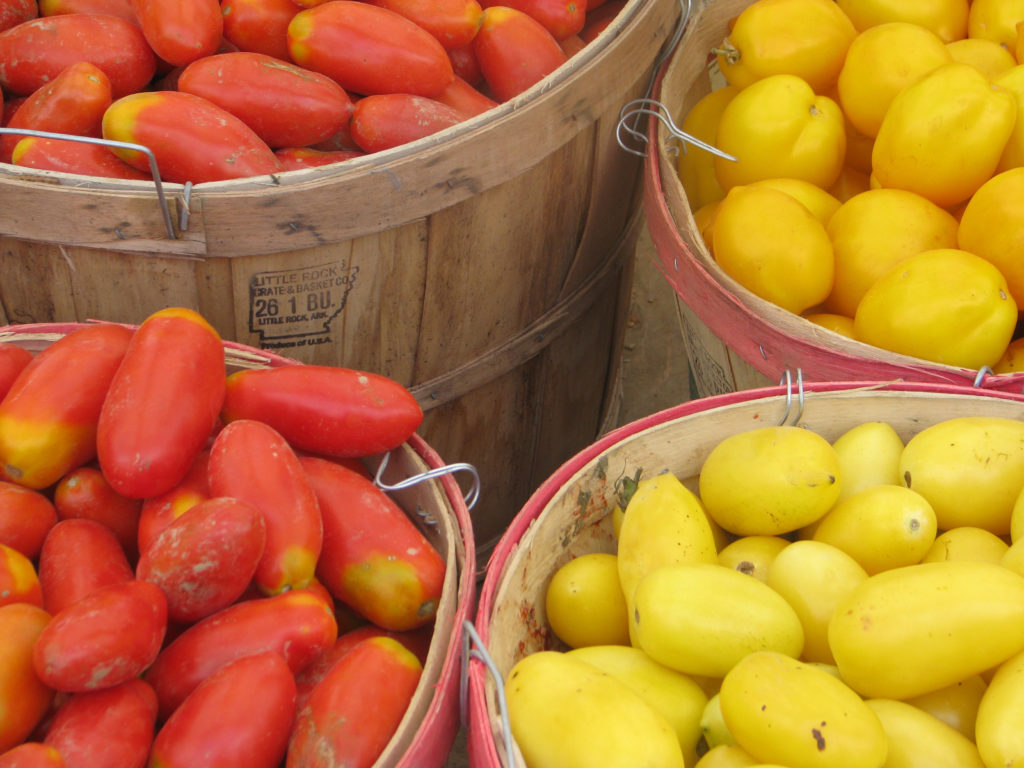 Aunt Maria's house was located only two houses away from ours, and I could hear the family talking, laughing and arguing all at the same time from our backyard as they each performed the task my aunt assigned to them.  She ran a tight ship! I used to go with my mom sometimes, but because I was too young to participate, I could only observe. The family worked hard for two days and produced  hundreds of bottles of tomato purée, which were divided equally among them. Unfortunately for me, during my rebellious teenage years I had no interest in participating in this ritual.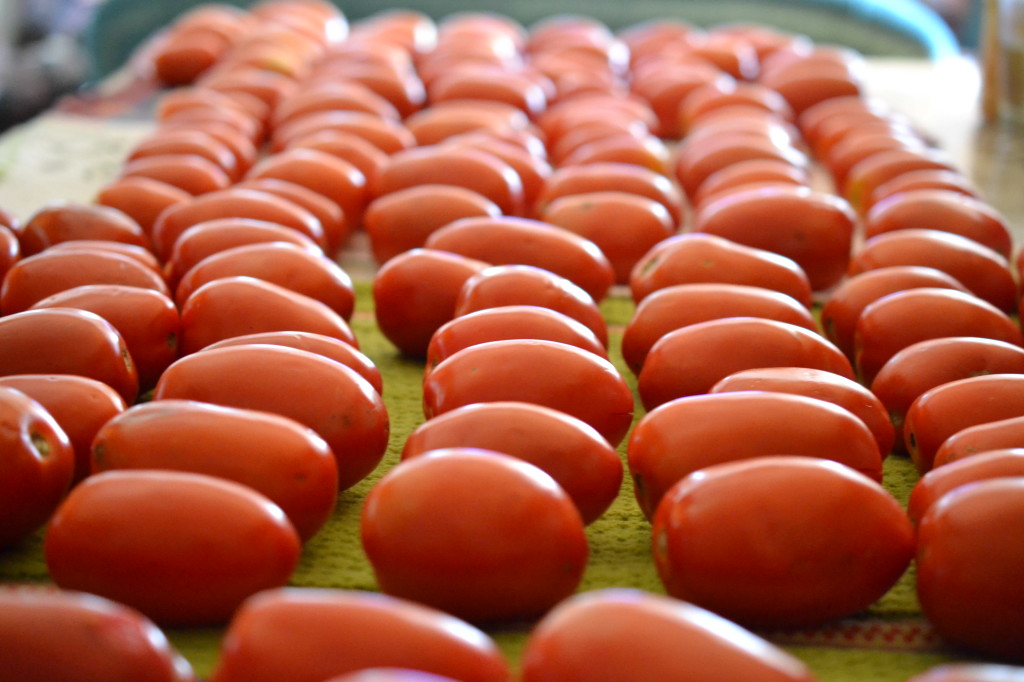 After I was married, my mom and my mother-in-law would always each give me a few bottles of tomato purée they had processed that year. As years went by, my mom and her family stopped preserving tomatoes as they were getting to an age when it was too tiring for them as it was for my mother-in-law. I realized that this tradition would not continue unless I began making it a ritual in my family. So this year, I made tomato purée for the first time with the help of my good friend Carla.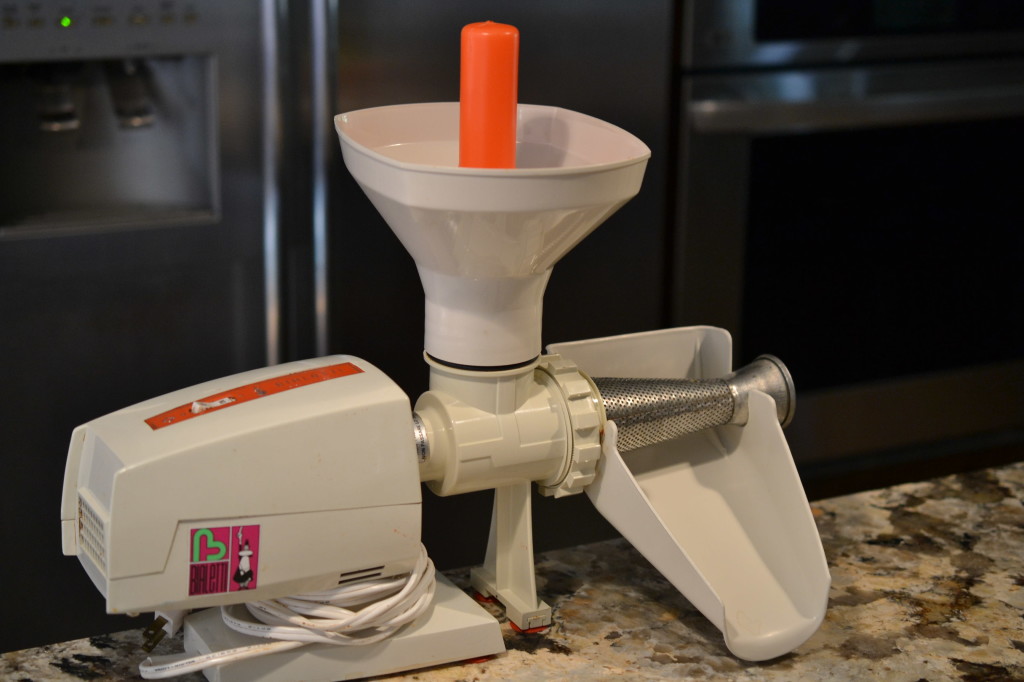 We scored, blanched, and peeled the tomatoes.  Then we each took turns at processing  30 pounds of tomatoes through the electric tomato machine my husband and I purchased when we first got married.  We had purchased it with the intent of making tomato puree but instead it was stored in the basement for years and never used until this year.   When we removed the last jars out of the water bath canner, we had 16 half pints of tomatoes purée in total.  That was just a trial run for this year.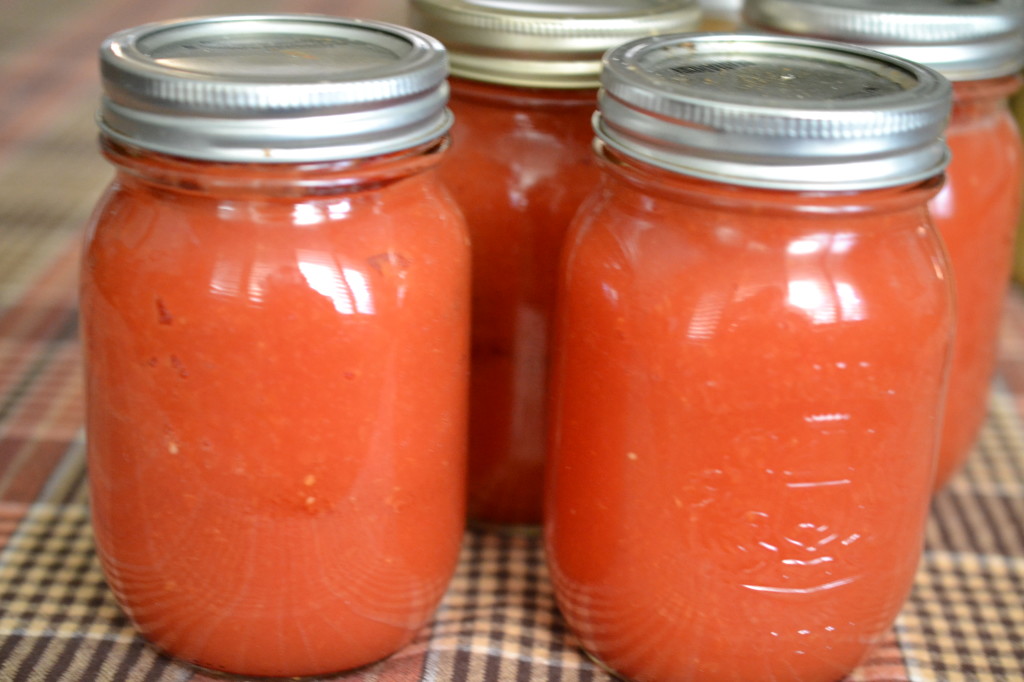 I felt such a sense of accomplishment that day.  I finally understood my mom's family Labour Day ritual.  It wasn't just about canning tomatoes to use throughout the year, it was also about being with family and friends.  I already advised my family that next year we are  going to start our own tomato preserving tradition – on Labour Day.

Basic Tomato Sauce
This is a basic tomato recipe that I use as a base for some of my chicken, fish, pasta and pizza recipes. It is the sauce I use when I make pasta with meatballs or vegetarian lasagna.
Ingredients
3 tablespoons extra virgin olive oil
1 medium onion, chopped
3 garlic cloves, chopped
2 tablespoons tomato paste
2 jars (500 grams each) tomato purée
1 teaspoon salt
¼ teaspoon crushed red pepper flakes
4 basil leaves
Instructions
Heat the extra virgin olive oil in a medium size Dutch oven or sauce pan over medium-low heat.
Add the chopped onion and cook until the onion is soft (about 2 minutes).
Add the chopped garlic, stir and cook for about 1 minute.
Add the tomato paste and tomato purée.
Season with the salt, crushed pepper flakes and basil.
Stir and bring to a simmer.
Simmer over medium-low heat for 20 minutes or until slightly thickened.
Taste and adjust seasonings if necessary.