For the seventh Canadian Food Experience Project challenge (Canadian Christmas tradition), I am going to share two traditional Christmas cookie recipes that are part of our Christmas sweet table:  Honey Spiced Biscotti (Susamielli) and Sicilian Fig Cookies (Cucidati).
Honey Spiced Biscotti
I first ate Honey Spiced Biscotti the first year I was married.  My husband's family all gathered at his parents' house on Christmas Eve (as they did each year) for supper and to exchange gifts.  We celebrated Christmas Day at my parents' house.  For two days we spent time with our families, eating the most amazing food, drinking great wine, and having a wonderful time.  This is what holidays are all about for us.
My mother-in-law was not only a fantastic cook, but a wonderful baker as well.   She would make fruitcake, panettone, and biscotti for Christmas Eve.  The only confection  she would buy was a Torrone (honey nut nougat) for each one of us.  My husband's favourite biscotti (and mine too) that my mother-in-law would make were Honey Spiced Biscotti.
These traditional Italian Christmas biscotti are sweetened with honey, scented with cinnamon, nutmeg, cloves, and lemon and orange zests.  She did not have a written recipe for these biscotti so when I asked her for the recipe she recited it as I took down notes.  All her measurements were approximate – a cup of  honey or more, add enough flour to make a soft dough, a few pinches of salt.  I have made these biscotti many times using my adapted recipe, and each time they turn out closer in taste to my mother-in-law's biscotti.
Honey Spiced Biscotti
These traditional Italian Christmas biscotti are sweetened with honey, scented with cinnamon, nutmeg, cloves, and lemon and orange zests.
Ingredients
1 cup honey
2 eggs
½ cup vegetable oil
½ cup granulated sugar
juice of 1 orange
juice of 1 lemon
zest of 1 orange
zest of 1 lemon
1 teaspoon pure almond extract
5 cups all purpose flour
¼ cup ground almonds
1 ½ cups toasted sliced almonds
½ teaspoon ground cinnamon
¼ teaspoon ground nutmeg
¼ teaspoon ground cloves
1 ½ teaspoons baking power
½ t teaspoon salt
Instructions
Preheat oven to 350°F.
Line 2 17x11 inch baking sheets with parchment paper.
In a medium size bowl combine the honey, eggs, oil,sugar, lemon and orange juices, lemon and orange zests, and almond extract.
Whisk until well combined.
In large bowl, whisk the flour, ground almonds, cinnamon, ground nutmeg, ground cloves, baking powder and salt. Add the honey mixture. Stir with wooden spoon to form a soft dough.
Add sliced almonds and continue mixing until well combined.
Turn dough over onto a floured surface and cut in half
Remove dough from bowl and place on floured surface. Cut dough in half.
With floured hands shape each half of the dough into 10x2 inch logs.
Place each log on prepared cookie sheet.
Bake each log separately for 20 – 25 minutes.
Let logs cool for 15 minutes and place on wooden board. When logs are completely cool, each log diagonally into ½ inch slices
Lay biscotti, cut side up, cooled cookie sheet.
Return to 350°F oven for 30 minutes.
Let biscotti cool for 15 minutes and then remove them from the cookie sheet and let them cool on cookie rack.
Biscotti will last several days stored in an air tight container.
 
Sicilian Fig Cookies
Sicilian Fig Cookies (or cucidati as my mother called them) are the traditional cookies I make for Christmas Day.  My mother used to reminisce about eating these cookies in Palermo, Sicily,  when she was a young girl.  My nonna would send her to the pasticeria (bakery) to buy the cucidati and my Mom would sneak a few before returning home.  It's that image that makes these cookies all the more special to me.
Since my mother and my nonna were not bakers, there was no family recipe for these cookies.  I researched Italian cookbooks and found different recipes for the Sicilian Fig cookies.  I made up my own version and tested and tweaked it by baking baking dozens and dozens of the cookies. My mother loved my final version and that was good enough for me!
I love the taste of these cookies made with a buttery dough filled with a mixture of figs, raisins, nuts, honey, zests, and scented with cinnamon.
Sicilian Fig Cookies
Ingredients
Dough

4 ½ cups all-purpose flour
3 teaspoons baking powder
⅔ cup sugar
¾ teaspoon salt
1 tablespoon freshly grated orange zest or lemon zest
1 ¼ cups butter (room temperature)
1⅓ cups cold water
1 egg beaten with 1 tsp water for egg wash.
Filling
3 cups dried figs, stems removed
3 cups seedless raisins
2 cups almonds, toasted
2 cups walnuts , toasted
¾ cup honey
4 tablespoons orange juice
4 tablespoons freshly grated orange zest
½ cup fig jam
1 tablespoon cinnamon
multi-coloured sprinkles
Instructions
Dough

In bowl of food processor fitted with metal blade, combine 4 cups flour, baking powder, sugar, salt and orange zest. Pulse to mix.
Cut butter in cubes; add to flour mixture and pulse to blend until butter resembles the size of peas.
Add water gradually and mix until ingredients hold together. If sticky, add remaining ¼ flour.
Remove dough from food processor bowl and place on a lightly floured board.
Knead dough for a few minutes until dough is smooth. Divide equally in 4 and shape each piece into a disc.
Wrap each disc in plastic wrap and refrigerate while preparing the spiced fig filling.
Fig Filling

Combine figs, raisins and nuts in bowl of food processor fitted with a steel blade.
Pulse until coarsely chopped.
Add the honey, orange juice, zest, fig jam, and cinnamon to the fig mixture.
Pulse until well combined. Mixture will be sticky.
Remove fig mixture from food processor bowl and place in medium sized bowl.
Cover bowl with plastic wrap and refrigerate until ready to use.
Shape the cucidati cookies

Preheat oven to 400° F.
Line 4 cookie sheets with parchment paper.
Bring dough to room temperature and cut each disc into 2 pieces. You will have 8 pieces of dough.
*On a lightly floured board, roll out one piece of dough to form a rectangle (approximately 4x12 inches)
Divide filling into eight pieces.
*With floured hands, roll 1 piece of filling into a 12 inch log.
Place the fig long in the center length of each rectangle. Fold one side over filling and fold the other side to overlap.*
Repeat from * to * 7 more times.
Place 2 fig logs seam side down on prepared cookie sheet.
Brush top of logs with egg wash and top with multi-coloured sprinkles.
Bake for 20 minutes or until logs are lightly browned.
Cool on cookie sheets for 10 minutes.
Remove logs and place on cutting board.
Cut each log into 12 slices.
I treasure both these recipes as they represent a past generation and have a history.  These recipes will be passed down to my daughters for them to bake for their families one day, and to pass them on to their own children to continue the tradition.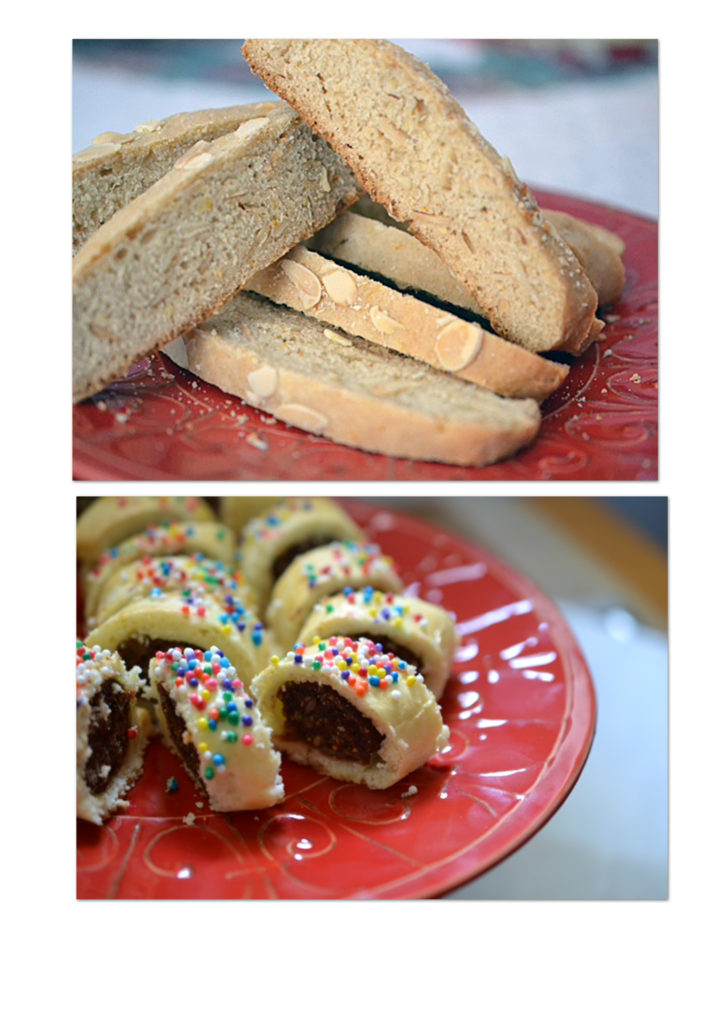 .