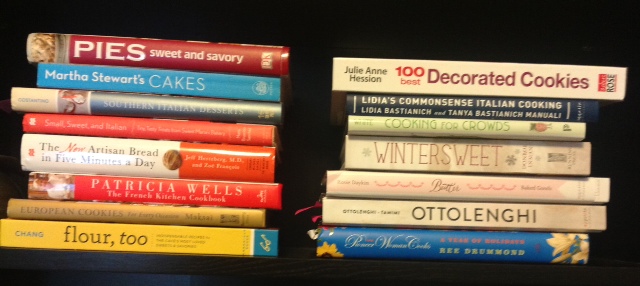 There's a stack of wonderful cookbooks in my bookshelf that I will be reviewing in the New Year. Some of them are included in a round-up of some of my favourite 2013 cookbooks.  I am in the midst of happily trying out a recipe or two from these cookbooks and will soon be posting cookbook reviews and cookbook give-aways.
In the meantime, below is a round-up of 10 of my favourite 2013 cookbooks followed by a cookbook give-away to mark the end of 2013.   Surely, you will find one or two (or more) to add to your cookbook collection or gift list for the cooks and bakers in your life.
Round-up of 10 favourite 2013 cookbooks
Wintersweet: Seasonal Desserts to Warm the Home

Author:  Tammy Donroe Inman
Publisher:  Running Press
Pies: Sweet and Savory

Author:  Caroline Bretherton
Publisher:  DK Publishing
The New Artisan Bread in Five Minutes a Day: The Discovery That Revolutionizes Home Baking

Authors:  Jeff Hertzberg and Zoë François
Publisher:  Thomas Dune Books
Southern Italian Desserts: Rediscovering the Sweet Traditions of Calabria, Campania, Basilicata, Puglia, and Sicily

Author:  Rosetta Costantino
Publisher:  Ten-Speed Press
Small, Sweet, and Italian: Tiny, Tasty Treats from Sweet Maria's Bakery

Author: Maria Bruscino Sanchez
Publisher:  St. Martin's Press
Martha Stewart's Cakes: Our First-Ever Book of Bundts, Loaves, Layers, Coffee Cakes, and more

Author:  Martha Stewart
Publisher:  Crown Publishing
Ottolenghi: The Cookbook

Authors: Ottolenghi and  Tamimi
Publisher:  Random House
The French Kitchen Cookbook: Recipes and Lessons from Paris and Provence
Ro
Author:  Patricia Wells
Publisher:  HarperCollins Publishers
Butter Baked Goods: Nostalgic Recipes From a Little Neighborhood Bakery

Author:  Rosie Daykin
Publisher:  Random House
Lidia's Commonsense Italian Cooking: 150 Delicious and Simple Recipes Anyone Can Master

Authors:  Lidia Matticchio Bastianich and Tanya Bastianich Manuali
Publisher:  Random House
Cookbook give-away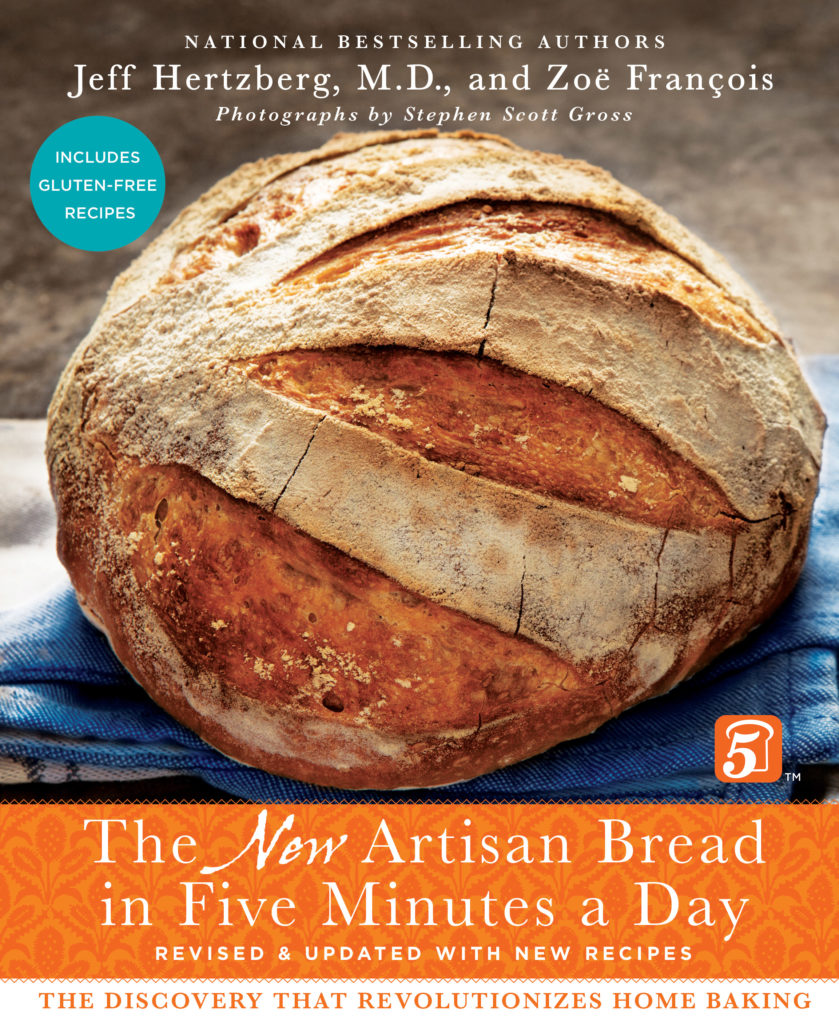 Make wonderful, delicious  sweet and savory breads using the five minute preparation method  developed by  Jeff Hertzberg and Zoë François.  The New Artisan Bread in Five Minutes a Day cookbook should be a part of every cook's bookshelf.  Many thanks to Thomas Dune Books for sending an extra copy for a cookbook give-away.
To win a copy, simply leave a comment below on why you would like to win this book, and 'Like'  My Cookbook Addiction Facebook page.  The winner will be randomly chosen and announced on January  10th, 2014.
Happy New Year!
This post contains affiliated links.