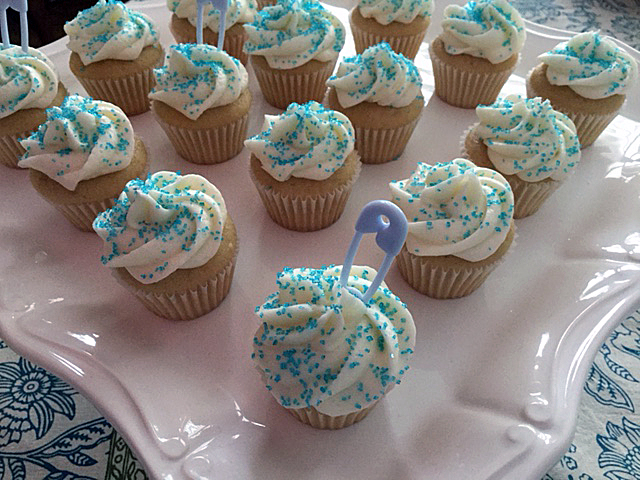 I was one on a list of bloggers that was  invited to participate in a virtual baby shower for Jan Scott of the popular blog, Family Bites.  I haven't met Jan personally, but I did hear her speak at the 2013 Food Bloggers of Canada Conference and was impressed by her enthusiasm and warm personality.
We were asked to select a food that Jan would enjoy – virtually.  Vanilla mini-cupcakes came to mind as they are one of my favourite treats.  In just two bites you're done or maybe not as one is never enough. I  was going to use my go-to vanilla cupcake and fluffy vanilla buttercream frosting recipes that are fail proof. I planned to make the vanilla mini-cupcakes last weekend but as luck would have it, I was struck with the flu last Friday and was bedridden for most of the weekend.  My goddaughter Tanya, who is a wonderful baker, came to my rescue and made them.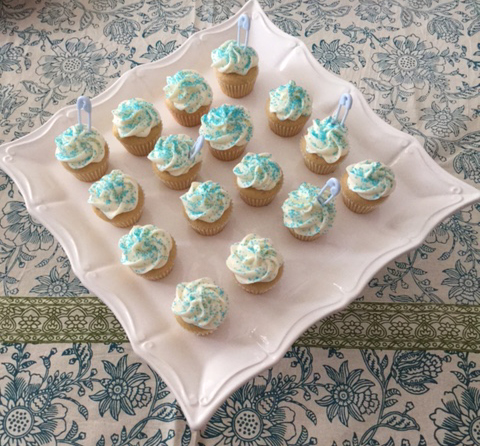 These are the links for the Vanilla Mini-Cupcakes and Fluffy Vanilla Frosting.
Vanilla Mini-Cupcakes
Fluffy Vanilla Frosting
For a view of all the treats that were brought to the #BabyFamilyBites virtual baby shower, visit the links below:
Mardi from eat. live. travel. write made blueberry cheesecake macarons
Julie from Dinner with Julie made lemon tart
Heather from The Tasty Gardener made Cream Puffs with Caramel Cream and Chocolate Pretzel Top
Isabelle from Crumb: A Food Blog made Blackberry Meringue Bars
Jennifer from Seasons and Suppers made Baby Blueberry Beignets
Christina from Strawberries For Supper made Chocolate Madeleines
Aimée from Simple Bites made Roasted Turnip Hummus
Jenny from The Brunette Baker made Wild Blueberry Buttermilk Muffins
Carole from The Yum Yum Factor made Beet and Blue Cheese Canapes
Charmian from The Messy Baker made Piglet Muffins
Amy from Family Feedbag made Marmalade Poke Cake
Brittany from My Daily Randomness made Caramel + Pumpkin Parfait
Meg from Sweet Twist of Blogging made Carrot Apple Loaf
Louisa from Living Lou made Maple Walnut Cookies
Libby from Libby Roach Photography made Butter Baked Good's Peanut Butter Sandwich cookie
Robyn from Planet Byn made Milk & Cookies Shooters