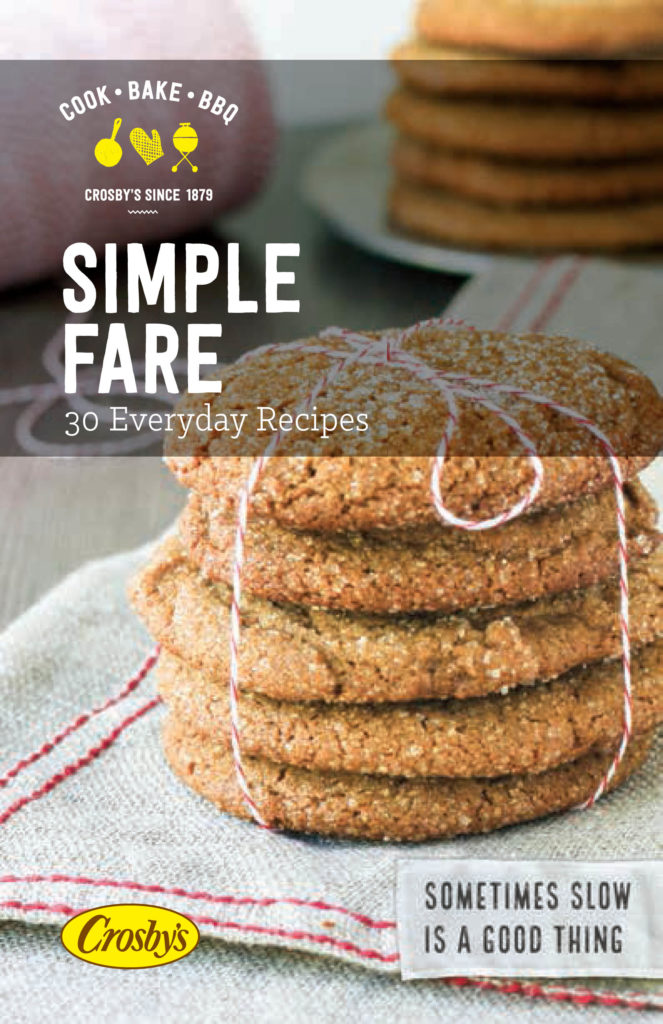 Crosby's Molasses, known in Quebec as Grandma Molasses, has recently launched a new free e-cookbook, Simple Fare: 30 every day recipes with a Grandma Molasses Simple Fare Gift Basket Give-Away.  This new e-cookbook contains nutritious sweet and savoury recipes for all the family to enjoy.
Simple Fare – Sometimes slow is a good thing
I believe that food not only nourishes our belly, but also our soul and the concept of 'sometimes is a good thing' is line with that philosophy. The Simple Fare recipes are easy to prepare so families, despite their everyday busy schedules, can partake in the preparation of the meal. I truly believe that sharing a family meal helps us to connect and converse about our daily experiences.
Simple Fare Recipes
The 30 recipes are simple, well written and accompanied by colour photos. Sample recipes include Lemon Poppy Seed Muffins, Whole Wheat Molasses Banana Bread, Molasses Cookies, Chocolate Swirl Gingerbread, Butter Tarts, Grilled Teriyaki Salmon, Oven-Baked Spareribs, Ginger Chicken Kabobs, Sweet & Spicy Roasted Cauliflower, and Sweet Chili Barbeque Sauce.
Back to School
Going back to school is around the corner and the following batch-making recipes will get you off to a good start in the daily routine of packing lunches.
Start off the school day serving Buckwheat Flapjacks with Molasses Syrup or Blueberry Bran Muffins for breakfast. For a nourishing treat, tuck in a Coconut Cranberry Granola Bar or a No Fuss Crispy Almond Bar in lunch boxes.  Most kids come home famished after school.  Molasses  Banana Bread or Bakery-Style Molasses Cookies are healthy snacks that will help them curb their after school hunger.
Grandma Molasses is a great substitute for sugar and is sulphur free.  For more nutritional information visit their  website.
Tested Recipes
Chocolate Swirl Gingerbread (Page 63)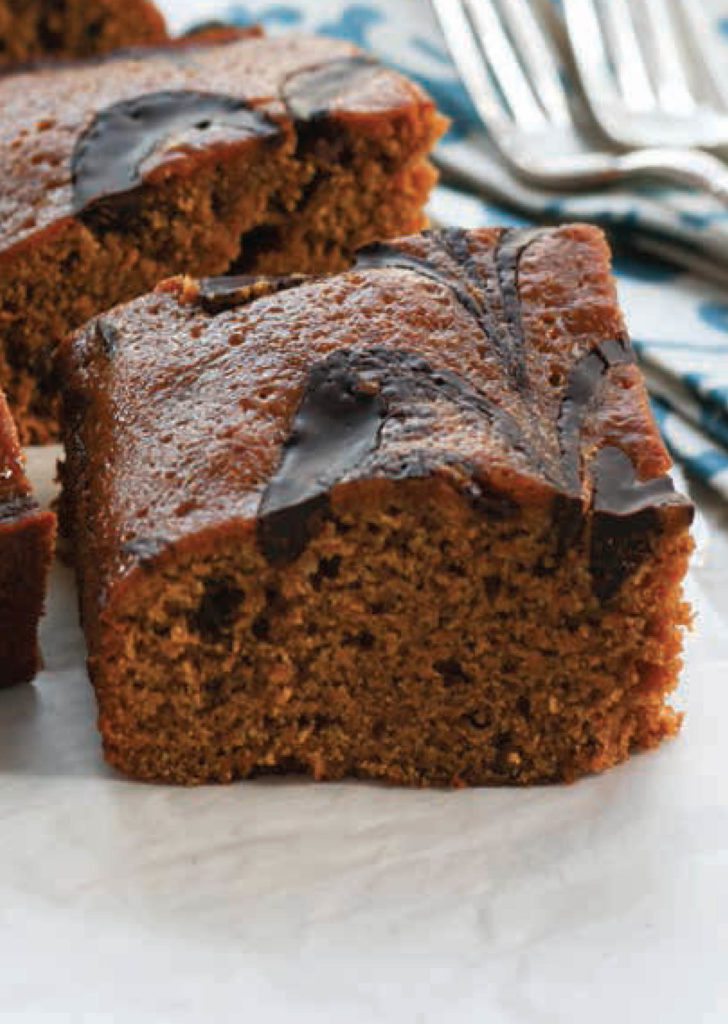 Since a carton of Quebec Molasses was not to be found in my mother's Italian pantry, I only discovered molasses when I came across a gingerbread recipe I decided to make for Christmas one year.  At first the taste was strange to me but the more gingerbread I ate the more I came to love the combination of ginger and molasses.
The bittersweet chocolate gives the Chocolate Swirl Gingerbread a depth of flavour which blends well with the molasses. This has become my go-to recipe for making gingerbread.  There's always a carton of Grandma Molasses in my Italian pantry.
No Fuss Crispy Almond Granola Bars (Page 19)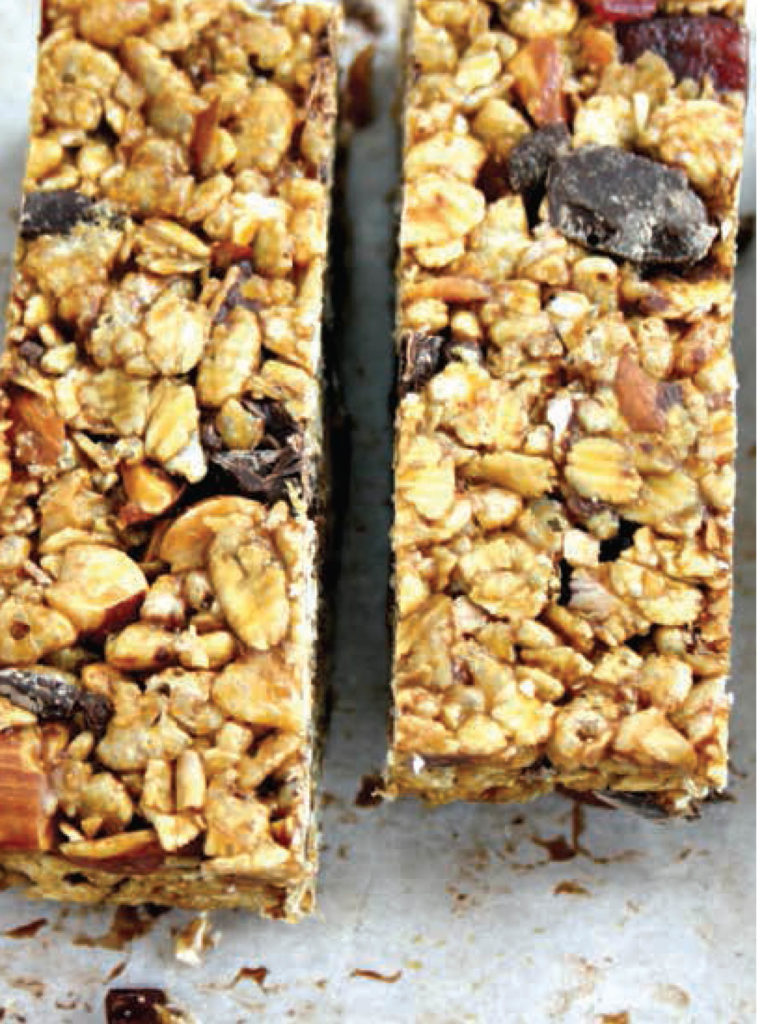 The No Fuss Crispy Almond Granola Bars are so fast and easy to make. Whip up  batches at a time.  They freeze well so you can always have them at the ready for school lunches.  There're sweet and crunchy with added dark chocolate. I find they're a great pick-me-up for a mid-afternoon snack.

No Fuss Crispy Almond Granola Bars
Author:
Crosby's Molasses
Ingredients
2 cups old fashioned rolled oats
2 cups crisp rice cereal
½ cup dried cranberries
1 cup whole almonds, toasted
1 / 3 cup butter
1 / 3 cup Crosby's Fancy Molasses
1 / 3 cup brown sugar, packed
½ tsp vanilla extract 4½ oz
(125 grams) coarsely chopped dark chocolate
Instructions
Prep

Line a 9"x9" pan with parchment paper or grease it well.

Combine

Combine the oats, rice cereal, cranberries and almonds in a large bowl.

Melt

Melt butter, molasses and brown sugar in a saucepan over medium heat.

Boil

Bring to a gentle boil and cook 2 minutes. Remove from heat and stir in vanilla extract (it will sputter).
Stir. Pour hot syrup over the oat mixture and stir to combine.

Cool

Allow to cool for a minute then stir in chopped chocolate. Press mixture firmly (and I mean firmly) into prepared pan and ensure it gets right to the edges. (Try laying a sheet of parchment paper overtop to make it easier to press down).

Refrigerate until set and cut into bars.
Grandma Molasses Simple Fare Basket Give-Away
The winner will have the choice of either one of the following baskets: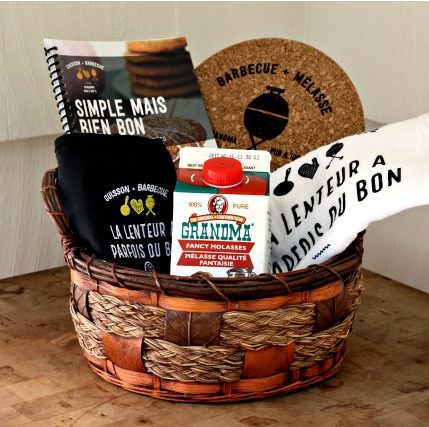 The Grandma Molasses Gift Basket includes:
Simple mais bien bon cookbook, apron, Grandma Molasses, dishtowel and cork trivet.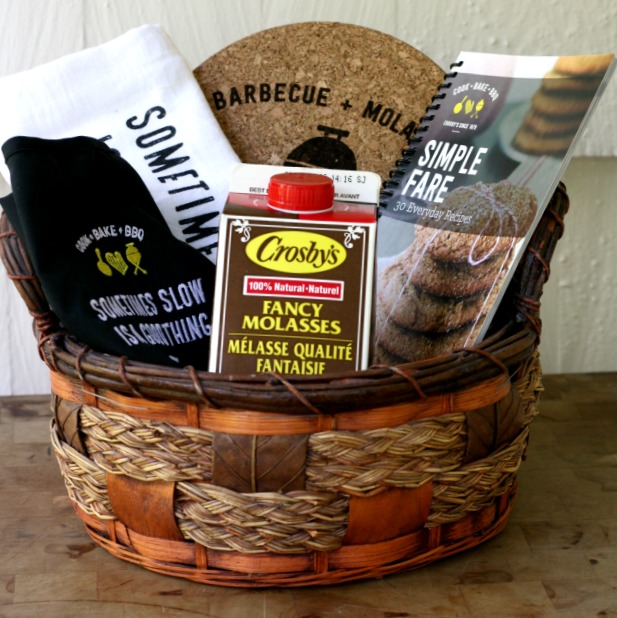 The Crosby's Molasses Gift Basket includes:
Simple Fare cookbook, apron, Crosby's Molasses, dishtowel and cork trivet.
To be eligible to win one of the Gift Baskets
Tweet about the give-away:
Win one of the Grandma Molasses or Crosby's Molasses Gift Baskets http://bit.ly/1tcuzVL @cbookaddiction
Download the free Simple Fare or Simple mais bien bon e-cookbook.
Include in the comment section below, your favourite recipe from the e-book and your tweet.
The Gift Basket Give-Away is open to all residents of Canada, 18 years and older.
Winner will be required to answer a  skill-testing question.
Comments for the Gift Basket Give-Away will close on Thursday, August 18th, at midnight Eastern Standard Time.
Winner will be selected randomly and will be announced on August 19th.
Gift Basket Give-Away is now closed.
Congratulations to Laura of Making Healthy Choices.
Acknowledgment
Photos and recipe were included in this post with permission by Crosby's Molasses.
Disclosure
I was not compensated to write this post.