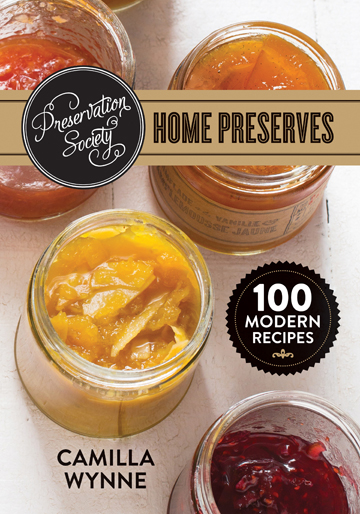 It`s October and I just finished canning my last batch of jam last week. With this beautiful weather we've been having, it's hard to believe we've transitioned into Autumn. During the summer, I eagerly await for the months of August and September.   That's when fresh figs, imported from California or Greece,  arrive at the Jean-Talon market in Montreal. For me, biting into a juicy, sweet fig surpasses the taste of any other fruit.  Did I mention I have an obsession for figs?
I have been searching for the ideal fig jam recipe to preserve this queen of  fruits for quite some time, so when I received the Preservation Society Home Preserves: 100 Modern Recipes cookbook by Camilla Wynne, I was filled with anticipation to find the fig jam that would end my pursuit.
Preservation Society Home Preserves cookbook
Although it starts off with an extensive Introduction followed by a Preserving Basics chapter, this is not your ordinary home preserving cookbook.   Camilla experiments with classic ingredients to make unique recipes for:
Jams
Marmalades
Jellies and Butters
Canned Fruits
Syrups
Pickles
Chutneys
Relishes and Savory Jams
For the Fridge
The 100 creative recipes are well formatted with step-by-step directions and include headnotes and tips. Colour photography is spread throughout the cookbook.  Below is a sample of the creative recipes listed.
Strawberry Margarita Jam and Banana Foster Jam  (Jams)
Christmas Clementine Marmalade and Bitters Blood Orange Marmalade (Marmalades)
Susie's Apple Bourbon Toddy Jelly and Brown Apple Butter (Jellies and Butters)
Peach Melba and Poires Belle Hèléne (Canned Fruit)
Concord Grape Syrup and Strawberry Syrup with Lemon Balm (Syrups)
Dill Pickles and Maple Chile Onions (Pickles)
Famous Apple Chutney and Cranberry Sauce (Chutneys, Relishes and Savory Jams)
Cajun Pickled Eggs and Isaac's Breakfast Bacon Jam (For the Fridge)
The last chapter, Cooking with Preserves includes recipes such as Marmgarita Gravlax, Jam Pockets, Jam-Swirled Cheesecake and Seville Orange Marshmallows.
Back to the Figs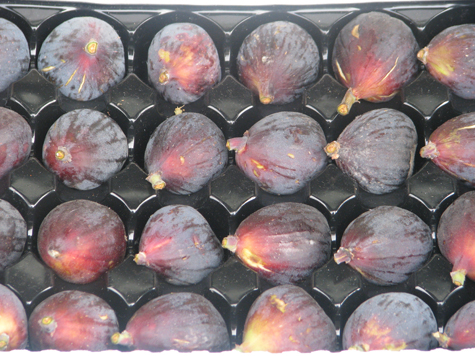 My quest in finding the perfect fig jam came to an end when I discovered the Fig Jam with Secrets recipe in the Preservation Society Home Preserves cookbook. What secrets you ask?  One of them is Amaro Nonino liqueur,  a digestif of reddish-amber colour that has a herby fragrance, with a mildly bitter spicy taste.   You can substitute the Amaro Nonino with almost any other Italian Amaro (Averna, Montenegro, del Capo) or even a sweet vermouth.
While the mixture was macerating, I would occasionally lift the cover of the pot to smell the heavenly aroma. The combination of the all the ingredients gives this jam a delicious deep flavour.
I made three batches of this recipe. The Fig Jam with Secrets recipe was so delicious that I gave away most of the jars of the first batch to family and friends to enjoy. The second batch I stashed away for our consumption, and the last one I made was to tuck in a jar or two into Christmas baskets or offer as hostess gifts.
My favourite way to savour this jam is with baked Brie cheese. The taste of the melted gooey cheese topped with fig jam is addictive and  just makes me want to eat more. It makes a show stopper-appetizer for the holidays. Just make sure to make more than one in case you invite any fig obsessed family or friends.
 I've also bookmarked the following recipes to make at a later date: Poires Belle Hèléne, Christmas Clementine Marmalade and Bitters Blood Orange Marmalade
Without further ado, and thanks to the publisher, Robert Rose, I present you the ….
Fig Jam with Secrets Recipe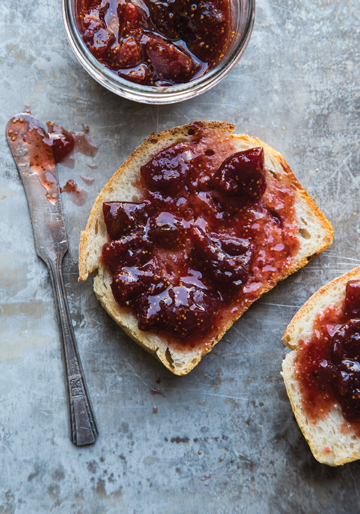 Fig Jam with Secrets Recipe
FIRST INVENTED THIS JAM BACK IN 2006. Truth be told, I can't remember what the "secrets" were back then, but the new ones are perfect. Of course I enjoy the coyness of the name, but what's really cool about it is that the secret ingredients — orange, vanilla bean, cinnamon and Amaro Nonino (an Italian bitter) — seamlessly enhance the taste of the figs. It's like you don't even know they're there — the figs just taste, well, better. Figgier, even! My assistant, Ariane, says this jam looks like a starry night sky, which is perfectly, poetically apt, and just one more reason to make it as soon as possible.
Ingredients
3.3 lbsfresh black figs (about 25 large) 1.5 kg
31∕4 cups + 2 tbsp granulated sugar 675 g
Grated zest and juice of 1 orange
1∕2 cup bottled lemon juice 125 mL
1 vanilla bean, split and scraped 1
1 1inch (2.5 cm) piece cinnamon stick (preferably Ceylon) 1
1∕4 cup Amaro Nonino liqueur 60 mL
Instructions
Remove the stems and coarsely chop the figs. You should have about 71∕2 cups (1.875 L).
In a large pot or preserving pan, combine the figs, sugar, orange zest and juice, lemon juice
and vanilla bean. Crumble in Ceylon cinnamon or, if using cassia cinnamon, just throw in
the stick. Cover and let stand to macerate for anywhere from 30 minutes to overnight (or refrigerate in an airtight container for up to 1 week).
In the meantime, prepare the jars and lids.
Bring the fig mixture to a boil over mediumhigh
heat, stirring often. Boil hard, stirring often,
until the setting point is reached (see page 17). Remove from heat and let rest for
minutes, stirring occasionally. Remove the vanilla bean and cassia cinnamon (if using).
Ladle jam into the hot jars to within 1∕4 inch (0.5 cm) of the rim. Remove any air bubbles
and wipe rims. Place the lids on the jars and screw the bands on until fingertip tight.
Process in a boiling water canner for 10 minutes.
Notes
Do not substitute freshly squeezed lemon juice in this recipe. While acidity varies from one lemon to another, bottled lemon juice has a constant pH and will ensure a safe pH level for these figs, which are a low acid fruit.

If you can find Ceylon cinnamon, splurge on it. Most cinnamon sold in the grocery store is cassia cinnamon. Ceylon cinnamon is softer, almost crumbly, and I prefer its flavor. You can find it inquality spice stores or gourmet shops.
 .
Bookshelf Worthy?
Camilla Wynne steps out of the box by experimenting with unique ingredients to create exceptional recipes for home preserves.  She elevates ordinary preserve recipes to another level by adding an other dimension of flavour. I  like to refer them as preserves with attitude.  If you're ready to step out of your comfort preserving zone and experience new flavour, the  Preservation Society Home Preserves cookbook is definitely a must on your bookshelf.
What to do with all that left over Amara Nino?  Enjoy many Paper Plane cocktails in the future.
Preservation Society Home Preserves
Author:  Camilla Wynne
Publisher: Robert Rose
ISBN-13: 978-0778805038
Softcover, 192 pages
Preservation Society is a Montreal based business.  For information on their products and canning workshops, please visit the Preservation Society website..
Acknowledgement
Book cover and Fig Jam with Secrets photos plus recipe courtesy of Preservation Society Home Preserves by Camilla Wynne, 2015 © www.robertrose.ca Reprinted with publisher permission. Available where books are sold.
Disclaimer
The Preservation Society Home Preserves cookbook was sent to me by Robert Rose to review.  I was not paid for writing this review and as always, the opinions are my own. This post contains an affiliated link.