My Holiday Kitchen Gift Guide
After years of cooking and baking, my kitchen is pretty much well stocked. The cupboards and drawers are filled with baking pans, cooking pots and utensils of all shapes and sizes. The overflow is stored to a designated kitchenware area in the basement where my daughters go to 'shop' in case they find a kitchen item they might need.  Then, there is my collection of bowls made of glass, stainless steel and stoneware in different sizes. They're an integral part of my cooking and baking rituals.
Mason Cash Bowls
And then I saw Mason Cash bowls being used in the Downton Abbey kitchen by Mrs. Patmore and by the Great British Bake-Off contestants. The design was so appealing that I knew I had to have them in my kitchen, so I jumped at the chance to review one when the opportunity presented itself.  I received a lovely 12-inch classic Cane design bowl and when I held it my hands, I knew it was the ONE for me.  The original Cane design, made of glazed earthenware, was first produced by Mason Cash in England in 1901 and has been a popular choice of mixing bowls since then.
I found the Mason Cash bowl easy to grip while mixing and it does not slide on the counter.  I have used  it for make bread, proofing dough, and mixing cake batter, muffins, and cookie batters.  It is also dishwasher, microwave, freezer and oven safe.  I have put it in the dishwasher, used it in the microwave to melt butter, and in the oven for proofing dough without any incidents.  I was so happy with the functionality of this Mason Cash bowl, that I purchased an 8-inch bowl and a ten-inch bowl in the same design to replace my current bowls which ended up in the designated kitchenware area in the basement.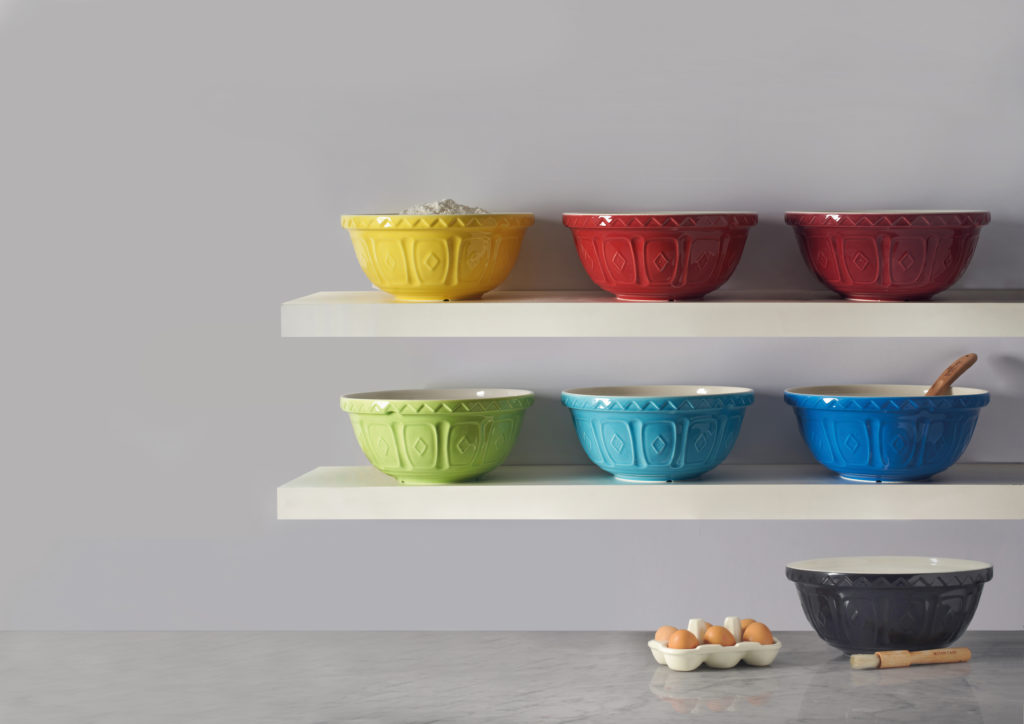 Mason Cash bowls also come in an array of beautiful colours. I was fortunate to find the two I bought at HomeSense. To find more information about the Mason Cash bowls and all their other beautiful kitchenware, please visit the Mason Cash website.
Mason Cash bowls can be purchased on Amazon.ca  and Amazon.com online stores and kitchen specialty stores.
Earlywood handcrafted wooden utensils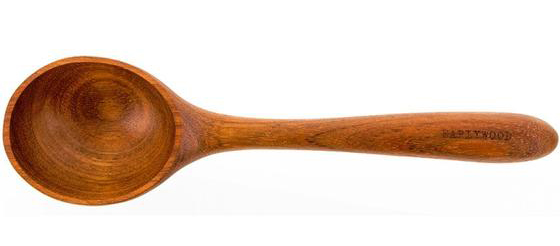 After reading a review on Earlywood wooden utensils, I immediately ordered an Earlywood large ladle because it reminded me of my mother's wooden spoons.   She got good use out of those spoons, and not just by stirring sauce.  Being my mother's daughter,  I also have a few wooden spoons that I use only for cooking, but they do not compare to the quality of the wood that are used to handcraft the Earlywood utensils.
My choice was a large ladle made with jatoba wood.  It's smooth, polished, beautifully handcrafted and easy to hold. I was so impressed with the quality and the craftsmanship  that I also purchased the Trifeca and Small Spreader sets for myself and as gifts.
The wooden utensils are easy to maintain and come with a small scrubber.  They are not to be soaked in water, handwash only and periodically treated with mineral oil that you can purchase at the Earywood website
Some other wood choices are:  bloodwood, Mexican ebony or hard maple wood. These  beautiful  handcrafted utensils, with proper maintenance, can be passed down to the next generation of cooks in your family.
Visit the Earlywood website to view their selection of handcrafted utensils and to enter the Giveaway which is featured every two weeks.
April Cornell Linens
Finding a tablecloth that fit my 55-inch diameter round dining table used to be a challenge.  I could only find 60-inch or 70-inch round tablecloths that would cover my table with barely an overhang.  I discovered April Cornell 88-inch tablecloths in a store and found them so appealing that I immediately bought two.  They have a beautiful design that fits well with my décor and are made of good quality imported cotton.
That particular store has closed now, so I went to the April Cornell website where I found a selection of  wonderful items such as women, girls and baby clothing, accessories and  seasonal collections of linens for your kitchen and home.  I am particularly fond of the watercolour linen collection that features April Cornell's original designs. The tea towel designs are so beautiful you will be tempted to frame them!
Since then, I have purchased several tablecloths and tea towels for myself and as Christmas  presents. They also make wonderful hostess gifts.
For more information and to view April Cornell beautiful designs, visit the aprilcornell.ca and aprilcornell.com online stores.
Acknowledgement
Mason Cash photos (except the one with the cookie dough) used with permission by Mason Cash.
Earlywood wooden utensils photos used with permission by Earlywood Handcrafed Utensils.
April Cornell photos of tablecloths and tea towel  used with permission by April Cornell.
Disclaimer
Mason Cash provided me with the 12-inch bowl to review.  As always, I only review products that I think would benefit my readers and the opinions are my own.