My Cookbook Addiction reviews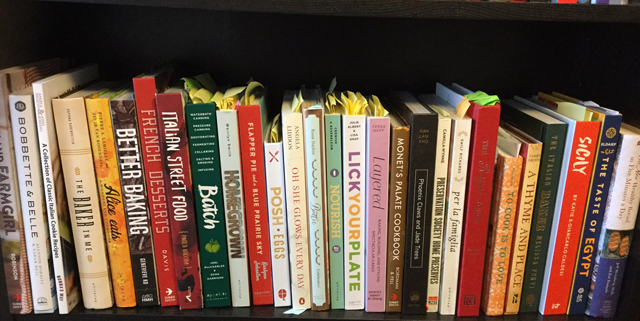 My office is where I write my cookbook reviews.  Actually, I call it my cookbook room as an office implies I am working, and for me writing reviews is not work but rather a learning experience.
Each book I review is a journey with stories being told by the recipes. This past year I strolled through Monet's kitchen gardens (Monet's Palate), had afternoon tea (The Royals), ventured into cooking Chinese recipes (Phoenix Claws and Jade Trees), met the farmers in l'îsle d'Orléans (Farmers in Chef Hats), made fig preserves (Preservation Society Home Preserves), baked star cookies in memory of a great pastry chef, Gina Di Palma (Dolce Italiano), made seafood stuffed pasta shells (Per la Famiglia) for the first time, and baked the most delicious molasses cookies (Crosby's Simple Fare). I have also added a few special items to my kitchen which I use daily (Holiday Kitchen Gift Guide).
You can read about these experiences, by browsing through the Cookbook Reviews and Other Products sections of this blog.
Food Bloggers of Canada cookbook reviews
I also write cookbook reviews for the Cookbook Corner section on the Food Bloggers of Canada website which features Canadian authored cookbooks.  Not only did I experience cooking some of the best recipes, I also learned about the diversity of Canadian cuisine and its culture.
Just click on the links below the books to read the reviews.
2017 Reviews
Come and join me on my journey when I will be exploring the cuisine of  Egypt, Sicily, Cuba, Persia and the Medieval era, experiment cooking with exotic spices as well as bread making and lots of baking for My Cookbook Addiction.
Sitting at my desk, I am surrounded by shelves packed with cookbooks I have been collecting for years and the overflow are stacked on one side of my desk and on the floor.  My dog, Maya, has to maneuver around them to find a spot to nap. This is heaven!
I wish you all a Happy New Year and thank you for joining me on my cookbook adventures.
2016 Cookbook Giveaway 
People often ask me what my favourite cookbook is.  It's difficult to answer as each cookbook has its own unique story and recipes, but Flapper Pie and a Blue Prairie Sky is definitely one of my favourites.  This is one cookbook you want on your bookshelves.  Thanks to Appetite Random House, I have an extra copy to give away.
Giveaway Rules
Giveaway open to Canada and US residents only.
Winner will be required to answer a skill-testing question.
To enter
Reply to the question in the Rafflecopter below.  Good luck!
Winner will be announced on My Cookbook Addiction Facebook Page on January 8th, 2017.