Artichoke Flan in Truffle Sauce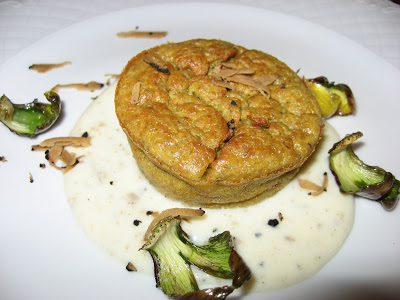 Author:
Chef Mirella Argilli of Il Panciolle Restaurant, Spoleto
2 tablespoons extra-virgin olive oil to coat the molds
2 tablespoons bread crumbs to coat the molds
10 ounces fresh artichokes
2 tablespoons lemon juice
½ cup vegetable broth
2 tablespoons freshly grated Parmigiano Reggiano
2 large eggs, beaten to blend
⅓ cup plus 1 tablespoon heavy cream
salt and pepper to taste
3 tablespoons unsalted butter
1 ounce flour
2 cups whole milk, heated to boiling
salt and pepper
2 tablespoons grated fresh truffle
Preheat the oven to 350 degrees.
Coat 6 soufflé molds with olive oil and bread crumbs. Refrigerate.
Trim the artichokes and place in cool water with the lemon juice to prevent oxidation.
Drain and slice the artichokes, and place in a pan with the broth.
Cook until very tender over medium heat.
Process the sautéed artichokes until smooth in a food processor.
Place in a bowl and add the Parmigiano, eggs, cream, salt, and pepper.
Fill the prepared molds and place in a roasting pan filled halfway with warm water.
Bake in the preheated oven 25 minutes, or until set.
Melt the butter in a small sauce pan.
Add the flour and cook over low heat, whisking all the time, for a few minutes.
Do not let the flour brown.
Slowly add the warm milk, whisking all the while to avoid lumps.
Season with salt and pepper and cook until thick, about 10 minutes after it reaches a boil. Whisk in the grated truffle.
Spoon the sauce onto 6 plates.
Place a flan on each plate and serve.
Recipe by
My Cookbook Addiction
at http://www.mycookbookaddiction.com/2013/07/05/artichoke-flan-in-truffle-sauce/