Strangozzi with Tuffle Sauce Recipe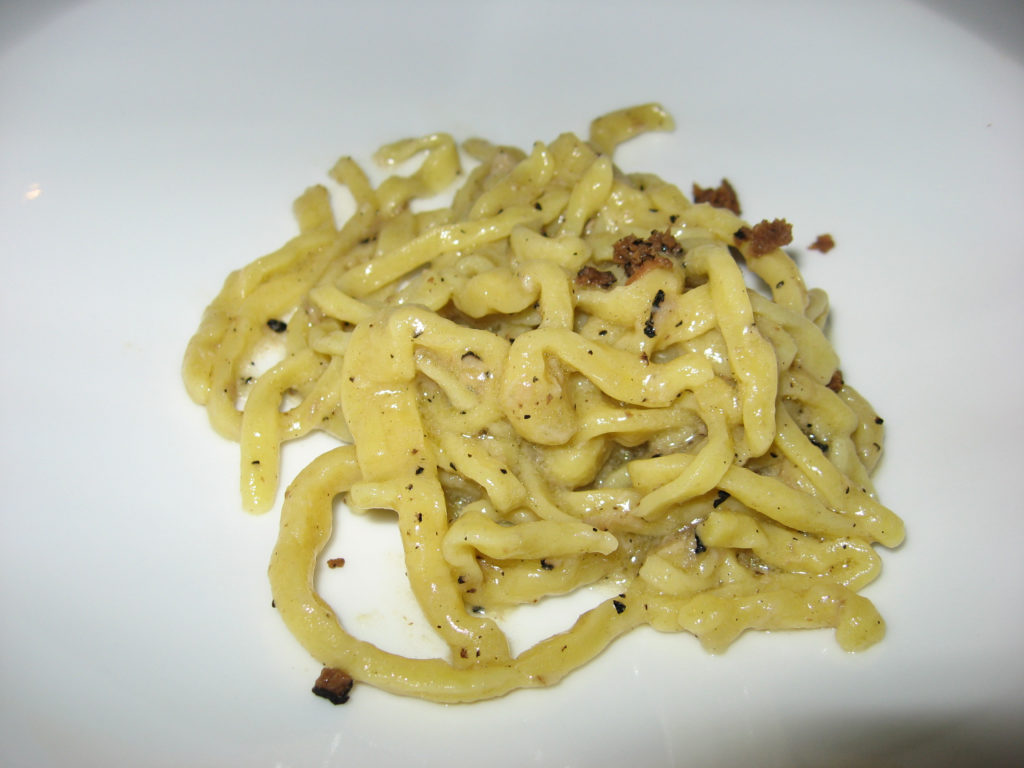 Author:
Liliana (reciped adpated from Chef Mirella's recipe)
1 ½ cups all-purpose or '00' flour
1 1 ¼ cups semolina flour
1 cup water (more as needed)
semolina flour for tossing
3 tablespoons unsalted butter
1 ounce flour
2 cups whole milk, heat to boiling stage
salt and pepper to taste
2 tablespoons grated fresh truffle (or truffle oil if fresh truffles are not available)
Combine the two flours on a large bowl or wooden working surface and make a well.
Add the water to the well and incorporate the flour and water with your hands until the dough and water are well mixed.
Knead the dough for about 5 minutes until the dough is smooth and pliable.
Cover the dough with a clean cotton tea towel and let rest for 30 minutes.
Place the dough on the wooden working surface that has been sprinkled with semolina.
Using a floured rolling pin, roll out the dough in a rectangle or round shape until it is ⅛ thick.
Roll up the dough into a log and cut the strangozzi ¼ to ½ inches wide (not too thin, not too thick).
Gently unroll them and spread on a floured surface to avoid them sticking together.
Melt the butter in a small plan. Add the flour and cover over low heat, whisking all the time for a few minutes until the flour loses its raw smell.
Do not let the flour take on any color.
Slowly add the warm milk, whisking all the while to avoid lumps.
Season with salt and pepper to taste and cook until thick, about 10 minutes after it reaches a boil.
Wisk in the grated truffle or truffle oil. Take pan off the heat.
Fill a large pot with water.
Bring to a boil and add 3 tablespoons of salt.
Add the strangozzi and cook al dente (the strangozzi should be firm)
Drain the strangozzi and add the Truffle Sauce. Mix well.
Plate and serve with sprinkling of truffle (if using).
Recipe by
My Cookbook Addiction
at http://www.mycookbookaddiction.com/2013/05/02/cooking-in-spoleto-strangozzi-with-truffle-sauce/