Roasted Pepper Eggplant and Cheese Terrine - Cooking in Chianti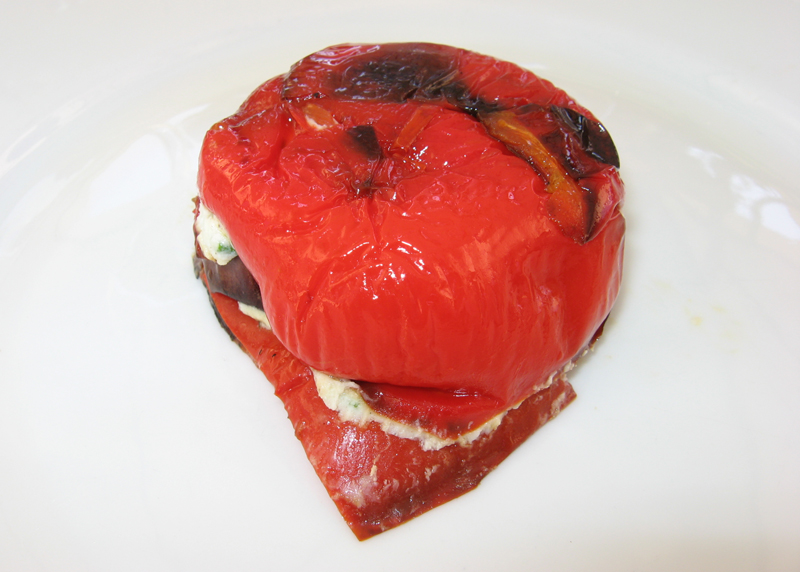 6 large red bell peppers, halved, stemmed, and seeded
6 large yellow bell peppers, halved, stemmed, and seeded
3 large eggplants, cut into long, thin slices (no more than ⅛-inch-thick)
¼ cup extra-virgin olive oil
½ teaspoon salt
¼ teaspoon freshly ground black pepper
1 pound Mascarpone cheese (preferably imported Italian)
pound whole-milk Ricotta
½ teaspoon salt
¼ teaspoon freshly ground black pepper
1 cup fresh basil leaves
1 cup fresh Italian parsley leaves
1 garlic clove, chopped
½ cup extra-virgin olive oil
½ cup basil leaves
4 cups baby greens
¼ cup extra-virgin olive oil
1 tablespoon lemon juice
½ teaspoon salt
¼ teaspoon freshly ground black pepper
4 ripe plum tomatoes, diced
Preheat the broiler.
Arrange the peppers, cut side down, on the baking sheet.
Remove from the oven and cool to room temperature.
Prepare the Mascarpone and Ricotta Filling:
Combine the Mascarpone, Ricotta, salt, and pepper until smooth in a bowl. Line 2 terrine molds with plastic wrap. Arrange some of the eggplants on the bottom of each terrine.
Top with some of the Mascarpone mixture, spreading it with the back of a spoon, then cover with a layer of peppers, a layer of parsley, and a layer of basil.
Repeat until you finish all the ingredients; the top layer should be eggplant.
Enclose in the plastic wrap and press with your hands to compact the ingredients so they hold together better when sliced.
Refrigerate up to 24 hours.
Prepare the basil oil:
Place all the ingredients in a blender and process until almost smooth.
How to Serve the Roasted Pepper, Eggplant & Cheese Terrine:
Toss the greens with the olive oil, lemon juice, salt, and pepper.
Arrange on each of 12 plates.
Unwrap the terrine.
Cut into thin slices and arrange on top of the greens.
Drizzle with the basil oil and garnish with the diced tomatoes.
Serve immediately.
Recipe by
My Cookbook Addiction
at http://www.mycookbookaddiction.com/2013/08/12/roasted-pepper-eggplant-and-cheese-terrine-cooking-in-chianti-castle/