Italian Style Sausage, Kale and Butternut Squash Stuffing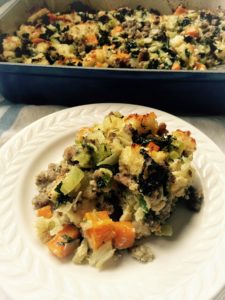 Author:
Nadia (adapted from Epicurious.com)
Recipe type:
Main or side dish
 3 cups cubed butternut squash (half a 1-kg squash)
 2 tablespoons olive oil
 1 day old loaf Italian bread, crusts removed and torn into bite size pieces (you should have about 8 cups of bread)
 2 pounds mild Italian sausage, without the casing
 3 onions, chopped
 3 celery ribs, chopped
 5 garlic cloves, minced
 Salt and pepper, to taste
 ½ teaspoon dried thyme
 2 cups packed kale, ribs removed and finely chopped (about 3 large leaves)
 4 eggs, lightly beaten
 ½ cup milk
 ¾ cup turkey or chicken broth
 1 cup grated parmesan cheese
 ½ cup Italian parsley, chopped
Preheat oven to 350°F. Place butternut squash cubes on a baking sheet covered with greased parchment paper. Salt lightly and bake for 20-25 minutes until squash is tender. Set aside.
Divide torn bread pieces on 2 baking sheets and bake for 10 minutes until the bread has dried out.
Increase the oven temperature to 425°F.
In a large skillet, heat 1 tablespoon of olive oil on medium heat and add the sausage. Cook, stirring to break it into smaller pieces, until it is no longer pink. Place in a large bowl.
Using the same skillet, add the remaining tablespoon of olive oil and cook the onions, celery and garlic until they have softened, about 10 minutes. Add salt and pepper to taste as well as the dried thyme. In the last 2 minutes of cooking, add the kale and stir until wilted. Transfer to the bowl with the sausage. Stir in the bread.
Grease a 10"x15" baking dish (or any similarly sized dish) and add the stuffing. Cover with foil and bake for 20 minutes. Remove the foil and bake for an additional 15 minutes until lightly browned.
Recipe by
My Cookbook Addiction
at http://www.mycookbookaddiction.com/2015/11/22/italian-style-sausage-kale-and-butternut-squash-stuffing/