Almond Cranberry Biscotti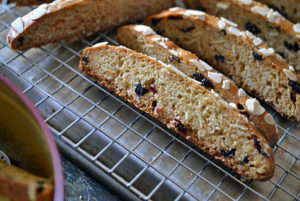 2½ cups all purpose flower
1 teaspoon baking powder
½ teaspoon baking soda
½ teaspoon salt
½ cup canola oil
½ cup honey
½ cup white sugar
2 large eggs (room temperature)
grate orange peel from a whole orange
1 teaspoon vanilla bean paste (or extract)
¾ cup dried cranberries
¾ cup sliced almonds
1 egg, beaten
¾ cup sliced almonds
In a medium bowl, blend together the flour, baking powder, baking soda, and salt together.
In a large blowl , whisk the canola oil, honey, white sugar, eggs, orange peel and vanilla bean.
Stir in the flour mixture.
Then stir in ¾ cup dried cranberries and ¾ cup sliced almonds.
Dough will be sticky. Cover and refrigerate for one hour.
Preheat oven to 350 degrees F.
Line a large baking sheet with parchment paper.
With floured hands place dough directly onto middle of baking sheet.
Form a log 16 inches long and approximately 4 inches wide.
Brush top with beaten egg and sprinkle with almonds.
Bake for 25-30 minutes or until springy to the touch.
Remove cookie sheet from oven and turn down oven temperature to 325 degrees F.
Let log cool on cookie sheet. for about 15-20 minutes.
Carefully remove log from cookie sheet and place on cutting board.
Cut log into ½ inch slices using serrated knife.
You should get 32 biscotti including the ends.
Place biscotti in a standing position back on cookie sheet.
Place back in oven for 15 minutes.
Remove cookie sheet from oven and let biscotti cool.
These biscotti are great for dunking into coffee (I prefer espresso) or tea.
Recipe by
My Cookbook Addiction
at http://www.mycookbookaddiction.com/2015/12/16/almond-cranberry-biscotti/