Seafood Stuffed Shells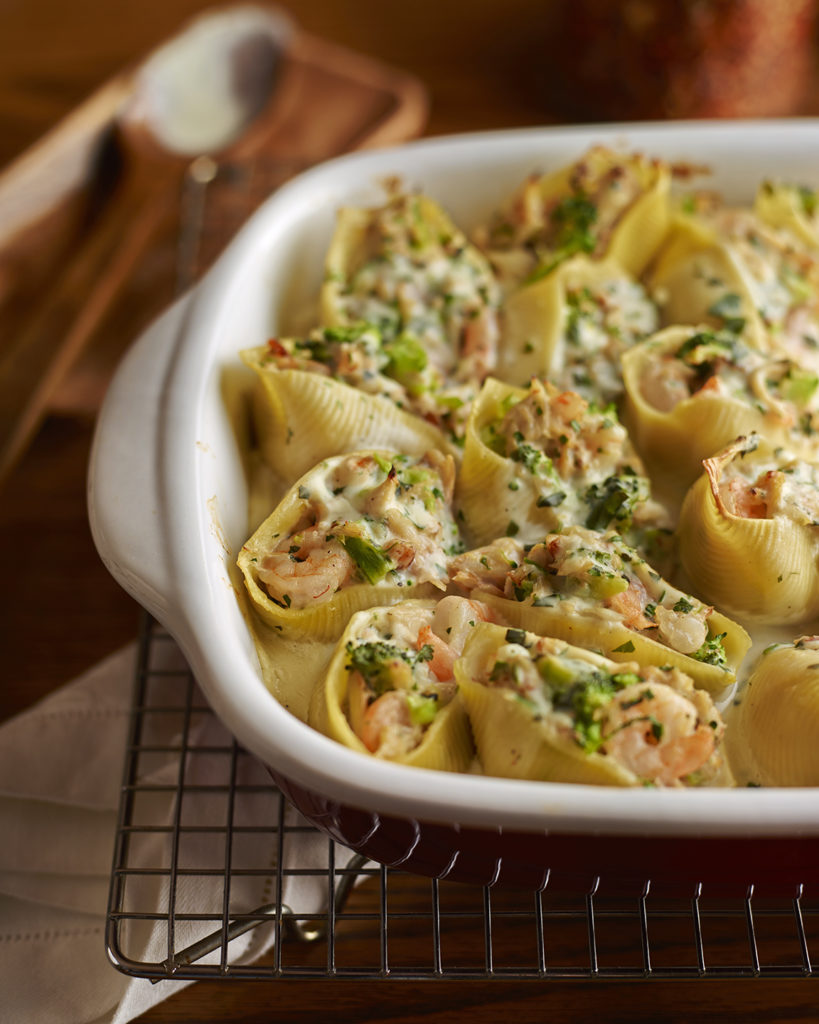 ¼ cup (60 mL) butter
1⁄3 cup (80 mL) all-purpose flour
4 cups (1 L) milk
8 oz (225 g) package cream cheese, cubed (One package of cream cheese is equivalent to 1 cup (250 mL)
¼ cup (60 mL) chopped fresh basil
2 Tbsp (30 mL) chopped fresh Italian parsley
2 Tbsp (30 mL) chopped fresh chives
2 tsp (10 mL) lemon zest
½ tsp (2 mL) salt
½ tsp (2 mL) black pepper
24–30 jumbo pasta shells
1 lb (450 g) small cooked shrimp, finely chopped
1 lb (450 g) cooked crabmeat
3 cups (750 mL) cooked broccoli, chopped
½ cup (125 mL) fresh grated Parmesan cheese
In a saucepan, melt butter over medium heat. Whisk in flour and
cook for 1 minute. Gradually whisk in milk and bring to a boil.
Reduce heat to medium-low and cook for 10 minutes or until thickened to coat back of spoon.
Remove from heat and stir in cream cheese, basil, parsley, chives, lemon zest, salt and pepper until smooth.
Set aside.
In a large pot of boiling salted water, cook shells for about 7 minutes or until al dente. Drain and rinse under cold water.
Place in a single layer on damp tea towel. Preheat oven to 400°F (200°C). Grease a 13 × 9-inch (33 × 23 cm) casserole dish; set aside.
Set aside 2 cups (500 mL) of the creamy herb sauce and add broccoli and seafood to
remaining sauce.
Fill shells with broccoli and seafood mixture. Place in prepared casserole dish.
Drizzle reserved sauce over top shells and sprinkle with Parmesan. Cover and bake
for about 20 minutes.
Uncover and bake for 15 minutes longer or until golden and bubbly.