Aubergine, Tomato and Goats' Cheese Stack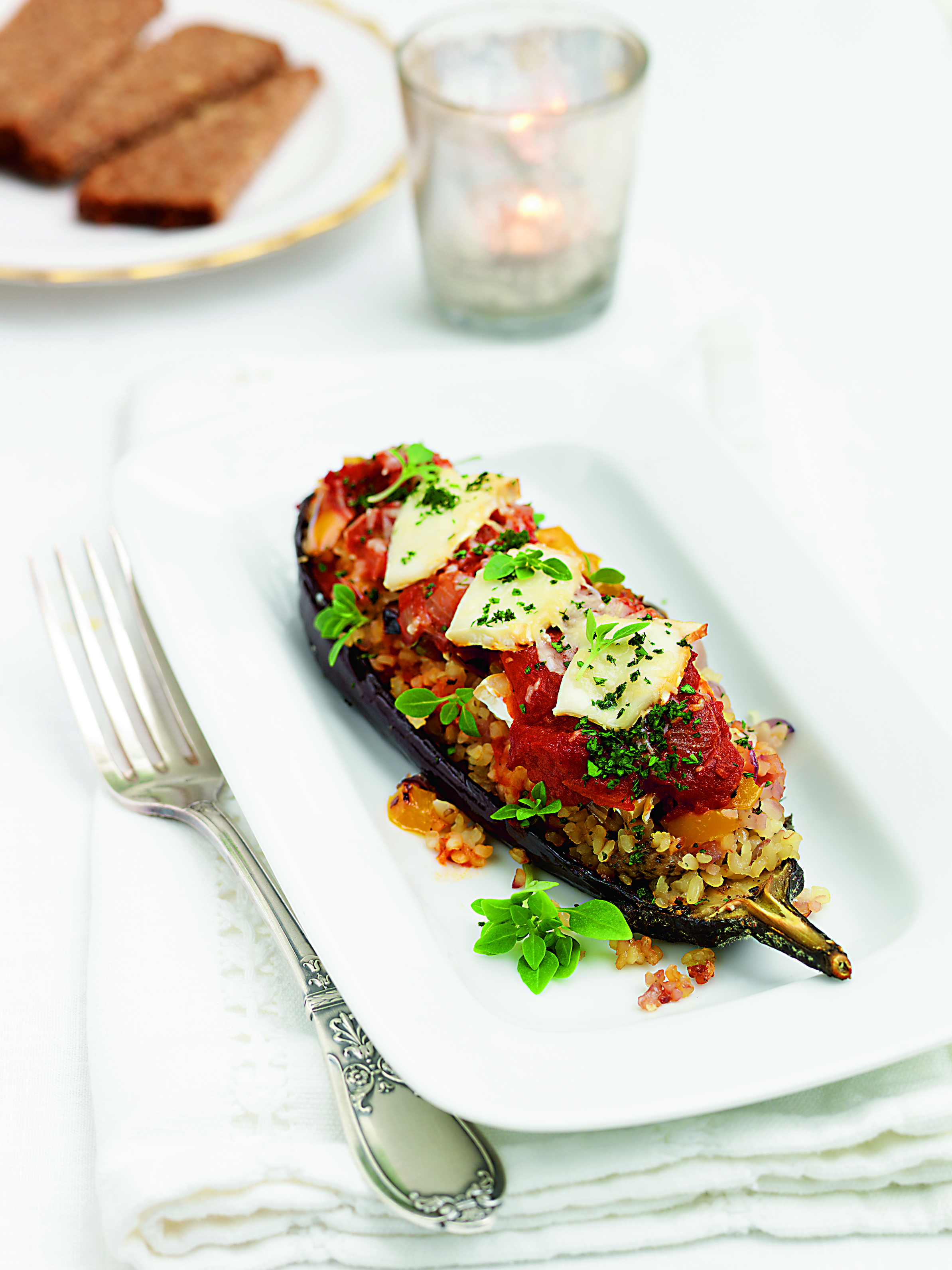 2 large aubergines *
Olive oil, salt & freshly ground black pepper
1 yellow pepper
1 red pepper
1 red onion
100g / 3½oz bulgur wheat
1 sprig of fresh thyme
150g / 5½oz goats' cheese log
60g / 2oz finely grated parmesan (½ cup)
A handful of fresh basil leaves
2 onions
2 cloves of garlic
A little olive oil
800g / 28oz can plum tomatoes
2 sprigs of fresh thyme
Salt, black pepper and sugar
Preheat the oven to 200ºC / 400ºF.
Wash the aubergines and cut them in half length-wise. Score the flesh with a sharp knife, season with salt and freshly ground black pepper and drizzle with olive oil.
Bake the aubergines for about 30 minutes, or until the flesh is soft.
While the aubergine is baking, make the tomato sauce: Finely dice the onion and crush the garlic, then sauté them together in the olive oil until the onion is soft and translucent. Add the tomatoes and thyme and season with salt, pepper and sugar to taste. Cook slowly with the lid on for 30 minutes, then for a further 15 minutes with the lid off, to allow some of the liquid to evaporate so that the sauce thickens.
Dice the peppers and sauté them in a little olive oil,until they are soft. Keep on one side.
Finely chop the red onion and sauté it in a little olive oil, add the bulgur wheat and some water, as per the specific cooking instructions of the bulgur wheat you are using. It generally it cooks in about 12 minutes but check this as it varies with different brands.
Once the aubergine is ready, scrape the flesh out carefully, so as not to damage the skins. Chop the flesh and mix in the fresh thyme leaves. Season to taste with salt and pepper. Return the skins to the baking tray ready to fill.
Begin with a layer of bulgur wheat in the base of the aubergine skin.
Slice the goats' cheese log into 12 rounds and then halve them into semi-circles. Place 3 pieces into each aubergine.
Next, add a layer of aubergine flesh.
Cover this with some tomato sauce.
Sprinkle a generous layer of grated parmesan onto the sauce.
Now another layer of bulgur wheat.
Top this with the diced sautéed peppers and more grated parmesan.
Finish with a generous covering of tomato sauce and a few more pieces of goats' cheese.
Bake at 200ºC / 400ºF for 25 minutes.
Just before serving, toss a few little basil leaves on top and accompany the aubergine with the remaining tomato sauce and some extra grated parmesan.
If you serve this with a baked potato, new potatoes or some crusty bread and a green salad it makes a lovely vegetarian main course.

If you replace the bulgur wheat with quinoa or rice, then this is perfect for anyone with a gluten or wheat intolerance.
Recipe by
My Cookbook Addiction
at http://www.mycookbookaddiction.com/2016/06/09/theroyaltouchcookbookreview/