Stir-Fried Beef with Black Pepper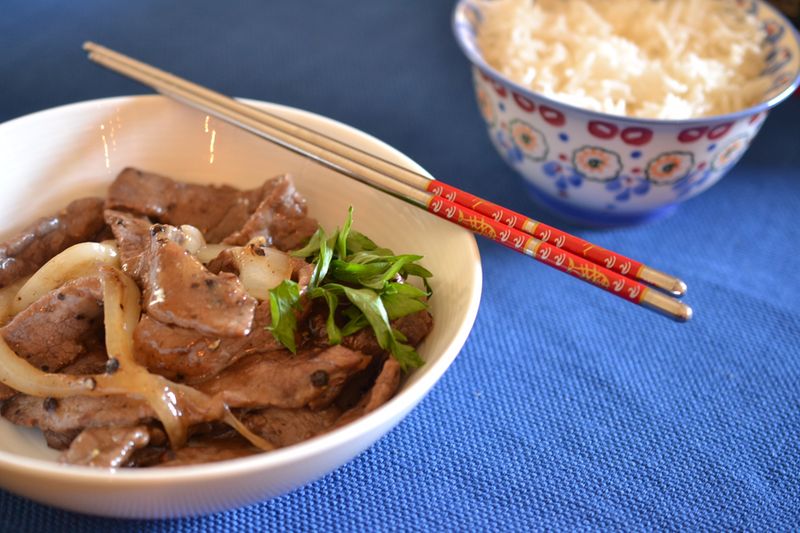 1 tablespoon Shaoxing cooking wine
1 teaspoon soy sauce
1 teaspoon tapioca starch
12 ounces beef tenderloin, cut against the grain into ⅛-inch-thick slices
2 tablespoons oyster sauce
1 tablespoon dark soy sauce
2 tablespoons Shaoxing cooking wine
1 teaspoon sugar
⅓ cup beef stock (see page 89) or water
1 teaspoons starch
½ cup vegetable oil
6 thin slices fresh ginger
2 garlic cloves, thinly sliced
1 medium onion, cut into ⅛-in-thick slices
1 tablespoon black peppercorns, coarsely cracked
Cilantro sprigs
In a bowl, combine all the ingredients for the velveting mixture and mix well. Add the beef and mix well. Let marinate for 20 minutes
Mix the sauce ingredients in another bowl.
Heat the vegetable oil in a wok over high heat until it begins to shimmer, about 350 degrees F. Add the beef to the work and quickly fry it for about 1 minute, until the meet is about three-quarters done of the exterior has turned brown. Remove the beef from the wok and place it in a skimmer over a bowl to drain off the excess oil.
Pour the oil out of the work, reserving 2 tablespoons, and quick rinse the bottom of the wok with water, scraping off any residue that's stuck there.
Dry the wok and return it to the heat Return the reserved 2 tablespoons vegetable oil to the wok. Add the ginger, garlic, and onion to the work Stir-fry until fragrant, about 30 seconds. Return the beef to the wok and add the black peppercorns. Stir-fry for about 15 seconds, then add the sauce mixture. Cook until the sauce thicken, about 2 minutes. Serve with cilantro sprigs.
Recipe by
My Cookbook Addiction
at http://www.mycookbookaddiction.com/2016/09/10/phoenix-claws-jade-trees-cookbook-give-away/