Bake Pumpkin Soup Recipe from Farmers in Chef Hats Cookbook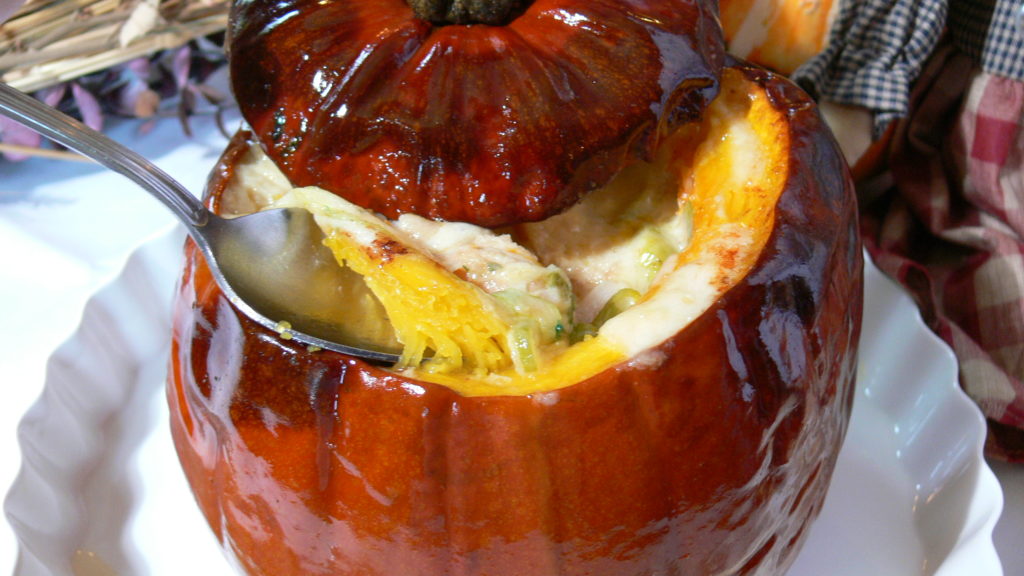 Author:
Chantal Nolin, Ferme Guillaume Létourneau
1 pumpkin, 3½ lbs (1..6 kg)
1 slice of bread, grilled and cut into croutons
2 oz. (60 g) old cheddar; grated
2 oz. (60 g) fresh mozzarella, diced
2 oz. (60 gr) lardons (bacon cubes)
2 tbsp. (30 g) leek (white part only), chopped
2 tbsp. (25 g) red onion, chopped
3 cups (750 ml) chicken stock
 ½ cup (125 ml) cream
 1 pinch of nutmeg
 Freshly- ground pepper
Cut open the top of the pumpkin and remove seeds and fibers.
Place all ingredients in successive layers in the following order: croutons first, then cheeses, lardons, leek, onion, nutmeg
and pepper.
Add cream and fill with chicken stock to just below the rim of the pumpkin.
Put the top back on and place in a drip pan. Bake for about 1 hour and 45 minutes or until pumpkin flesh comes of easily with a spoon.
Before serving, scrape the sides o the pumpkin to obtain the cooked flesh. Put pumpkin flesh into bowls and cover with broth.
Just before serving, add a few drops of whisky in the bowls. It will enhance the flavour of your soup.
Recipe by
My Cookbook Addiction
at http://www.mycookbookaddiction.com/2016/10/31/baked-pumpkin-soup-recipe-from-farmers-in-chef-hats-cookbook/