Pan Seared Scallops with Pea Puree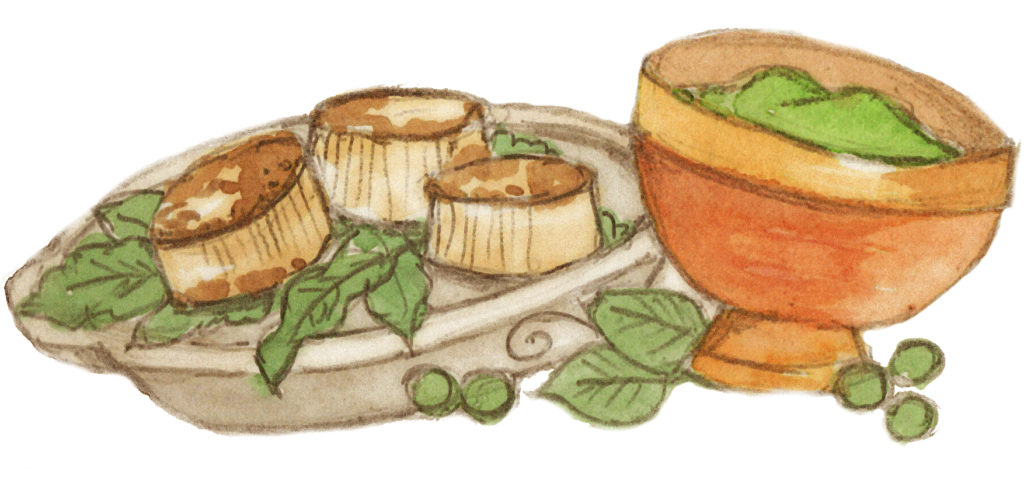 Author:
Tricia Cohen & Lisa Graves
1 tablespoon unsalted butter
1 clove of garlic, minced
2 fresh mint leaves, chopped
1 cup sweet peas, thawed if you are using frozen peas
½ cup chicken stock
2 tablespoons grated cheese (we used pecorino)
3 tablespoons mascarpone
Salt and pepper, to taste
6-8 large scallops
Unsalted butter and olive oil for searing
Cooking the puree![b]
In a saucepan, heat 1 tablespoon of butter on medium heat, until melted. Add the garlic and mint. This will be incredibly aromatic. Once the garlic softens, not browns, add the peas and chicken stock.
When the peas warm and soften, add the cheese and stir. Using a hand mixture, or blender, puree the pea mixture until smooth.
Add the puree back onto the heat, medium low, and then add the mascarpone. Salt and pepper to taste.[b]
Cooking the scallops![b]
Pat the scallops dry, and remove any remaining muscles with your fingers. Generously sprinkle the scallops with salt and pepper. Swirl olive oil around the pan. The pan should be big enough to fit all your scallops comfortably.
Heat a pan on medium-to-medium high heat. Place the scallops on the hot pan. The secret to searing scallops is to leave them alone! Allowing 3-4 minutes for each side will brown to scallops nicely.
This is an optional technique that yields delicious results. Once you flip the scallops over to cook the other side, add a few pats of cold, unsalted butter. This gives the scallops a nice finish and golden color to serving side. You can also, when adding the butter, incorporate fresh herb or spice. Our favorite spice with scallops is ground coriander.
Place the scallops on a plate, buttered side up, with the pea puree. You can serve the scallops beside the puree or serve over. Your preference. We served the scallops on the puree, with a bit of mint sprinkled on top.
Recipe by
My Cookbook Addiction
at http://www.mycookbookaddiction.com/2017/01/23/a-thyme-and-place-cookbook-review/