January's baking challenge for the Daring Bakers is Lemon Meringue Pie.
The Daring Bakers was founded by Ivonne of Cream Puffs in Venice and Liz of La Mia Cucina. Each month a baking challenge is posted by one of the members. This month Jen of The Canadian Baker was the lovely hostess.
For the past few weeks, the Cookbook Addiction household has been invaded by nasty cold/flu germs. I thought I would be spared, but last week I also fell victim to this germ invasion and thought I wouldn't be able to participate in the challenge.
My first attempt was before the 'germ invasion'. The recipe was clear and easy to follow. I managed to make the crust, the lemon curd and the meringue with relatively no problems. When I took the pie of the oven, it looked good enough to eat! When I cut the first slice, the filling was quite runny! I realized I cut the pie too soon – it still was quite warm. Nevertheless it tasted good.
My recent attempt (while being fully medicated) produced a firm lemon curd. This time I made sure that the crust and the curd were cold before I piled on the meringue. Also once the pie was baked, I let it cool for a few hours before cutting the first slice. The meringue was missing 'peaks' but I was just happy I managed to complete this challenge.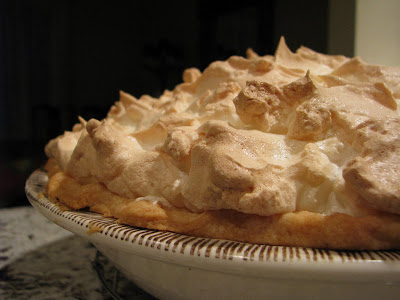 For the recipe, visit The Canadian Baker's site.
Visit the Daring Bakers blogroll to view other Daring Bakers creations.
Thanks for this challenge Jen! I am sure I will bake this pie again.