When I read on the Daring Bakers blog that Morven of Food Art and Random Thoughts chose the Perfect Party Cake recipe from Dorie Greenspan's book 'Baking: from my Home to Yours' I was delighted! I enjoy baking cakes and could bake this cake for a few celebrations scheduled in the month of March.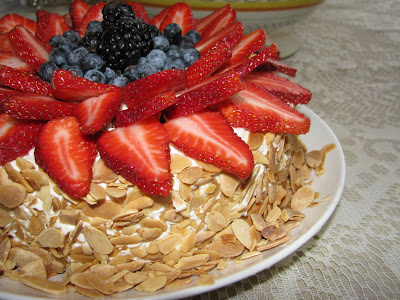 Well, one celebration was rescheduled for April. Didn't have time to make it for Easter and it finally dawned on me yesterday that the posting date was TODAY!! Saturday is quite the busy day at our house and we had guests arriving early afternoon to cook supper with us so there wasn't a minute to spare to bake this lovely cake! If I would have planned it properly, I could have made the cake for dessert.
So today the pressure was on! Fortunately I had most of the ingredients on hand – even the Swans Down cake flour which I have used for other baking.
My cakes didn't seem to rise as much I thought they would although I used all the right ingredients. There definitely was not any time to try again. Luck was on my side with the butter cream. No curdling – it mixed well and was delicious (although a bit too sweet for me).
When I sliced each cake in half – let's say the layers could have been a little more even but I blame the 'pressure' of completing the cake in time to post.

I filled each layer with strawberry jam and a thin coating of butter cream icing otherwise I would have not had enough to frost the outside and top of the cake.
Since my family is not a fan of coconut, I decorated the cake with toasted sliced almonds and fresh fruit.

I was going dust it with icing sugar but I thought the cake would be sweet enough.
I didn't slice it yet as I am serving this cake for dessert tonight to celebrate that I actually completed this month Daring Baker's challenge. Let's hope it was successful!

Thank you Morven for choosing this recipe. I bought the book!