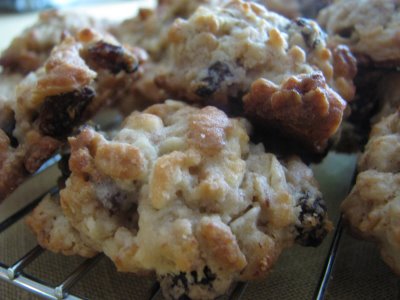 For August 19, Michelle of Bad Girl Baking chose Granola Grabbers on page 82 from Dorie Greenspan's cookbook 'Baking: From my Home to Yours'. Cookies! I love baking cookies (and eating them). As usual I waited until the last day to bake them. I should have baked them instead of the 7 dozen chocolate chip cookies for the day camp where my daughter worked as a counselor in training.
My husband thought these were 'healthy' cookies because of the granola and that they were chocolate chip free. He doesn't know about the amount of butter used to make these Granola Grabbers. Since I cannot eat peanuts, I substituted sliced almonds instead. Also, I could not find just plain granola so I used granola with honey. I used 1/4 cup less brown sugar and made them smaller than the recipe called for. Donna of Spatulas, Corkscrews and Suitcases wrote a great article on granola which includes a recipe for Honey Raisin and Nut Granola.
They came out really good, although I thought they were just a bit too sweet. The husband is eating them as I am writing this post and I am sure once our daughters come back from the movies, they will sit at the island in the kitchen with a glass of milk each to drink and a mound of cookies to eat as they tell us all about the details of the movie they saw. There's something to be said about home made cookies – no one can resist eating them!
Thanks Michelle for choosing a cookie recipe. Visit Bad Girls Baking for this delicious cookie recipe. The Tuesdays with Dorie Bakers are sharing their cookies at Tuesdays with Dorie.