Today is our Canadian Thanksgiving. A day to stop and reflect on the many things I am thankful for: so thankful for my famil, my husband of 25 years who is such a caring and giving person, my two daughters whom I can not imagine not being part of our lives, my amazing friends who have always been so supportive, the cyber friends I have made during the past year and of course this wonderful country I am fortunate to be living in.
We did not celebrate Thanksgiving while growing up. My parents immigrated to Canada from Italy and they were not familiar with this holiday. It was only when I got married that I began celebrating Thanksgiving by cooking turkey with all the trimmings.
These past few weeks have been very sad for the family with the passing of my father-in-law and this past week I was practically bedridden with debilitating migraines but I still wanted to attempt making Thanksgiving lunch. My husband was in charge of buying the turkey but he came home with a rock solid 10 pound frozen turkey that was not going to be thawed in time for Thanksgiving lunch today. So if we couldn't eat turkey we would eat pasta. I went to Plan B and made Anelletti al Forno (Baked Anelletti). This is a family favourite dish; cooked anelletti (ring shaped pasta) layered with tomato sauce with peas, mozzarella and parmigiano cheese topped with breadcrumbs. While baking, the cheese melts, the sauce is bubbly and the breadcrumbs forms a crust. Since I don't have a written recipe for this dish, I will post it at a later time. I really should write down all my Mom's recipes to make sure I don't forget any.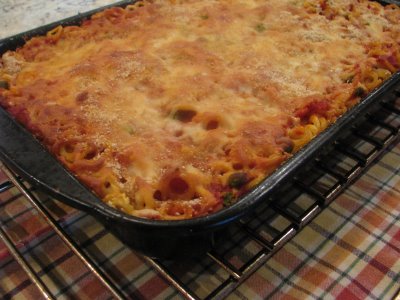 Since my family is not fond of pumpkin pie, for dessert I made an absolutely delicious Pear Chocolate Bundt Cake with pears from our tree using the recipe from the Fall 2008 edition of Ricardo Magazine.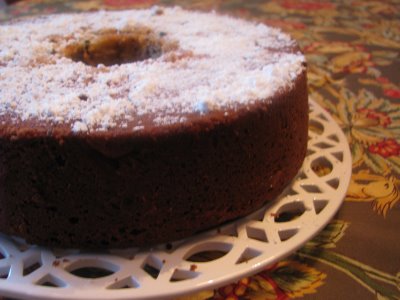 Although we didn't have the traditional Thanksgiving lunch, we were thankful to be eating all together with my mother-in-law. Besides, there is still a turkey defrosting in the fridge so we will have that Thanksgiving lunch (probably it will be dinner) later on this week.
Happy Thanksgiving!