This week's TWD is Lenox Almond Biscotti chosen by Gretchen at Canela and Comino. Was I happy? You bet! We are truly a biscotti loving family. You're sure to find biscotti at every holiday and family event. I have made so different types of biscotti but almond biscotti are the family's favourite.
This was a simple recipe to follow but I did make a few modifications:
used vegetable oil instead of butter (sometimes I use olive oil)
substituted Amaretto for the almond extract
toasted the almonds (I always use toasted nuts for biscotti)
added the lemon rind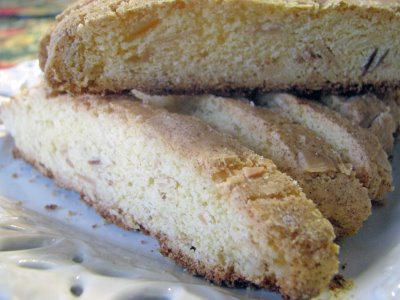 The biscotti were delicious! This photo really doesn't do them justice. Wouldn't you know it, the week I made biscotti is the week our espresso coffee machine is out for repair (I believe it's due to the many espressos we collectively drink each day) and it's a well known fact that biscotti have to be dunked! So before I run off to Starbucks with biscotti in hand, I will try something new – dunk my biscotti in tea.
Thanks Gretchen for choosing a family favorite recipe! The recipe can be found at Canela and Comino or on pages 141-142 of Baking: From my Home to Yours. Check out the TWD Bakers' biscotti at Tuesdays with Dorie.