We are a true bread loving family! Not just any bread – Italian round loaves, French baguettes, etc. We especially love home made bread – something I don't make often enough. I even bought a bread maker which I have used occasionally with great results but it just wasn't the same as homemade bread. Besides, we have this wonderful bakery – Premier Moisson – not too far from our house where we can buy these amazing artisan breads.
While visiting the
Zoe Bakes
blog, I discovered that Zoe co-authored a gem of a book entitled
Artisan Bread in Five Minutes a Day
along with Jeff Hertsberg. Just the title sparked my curiosity. Usually I order books online but I just couldn't wait a few days for delivery so I went to Chapter's bookstore in hopes they had one in stock. I bought the last one!
I began reading the book the minute I returned home. There are so many wonderful recipes to make I didn't know where to start. Because I didn't have a pizza stone at the time, I made the Buttermilk Bread which was baked in a loaf pan. The bread was so delicious!
One way we ate it was sliced thin, toasted and spread with jam.
Once I bought a pizza stone, I made the Italian Semolina Bread.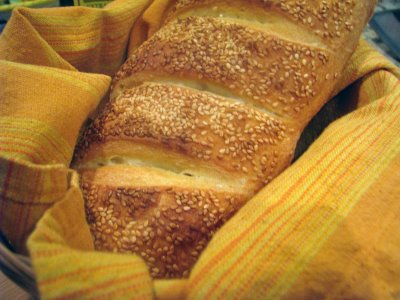 When my husband tasted the bread, he actually asked me 'You made this bread?" It tasted just like the bread his mother used to make. Well, my mother-in-law is an excellent cook and baker, so I took that as a compliment.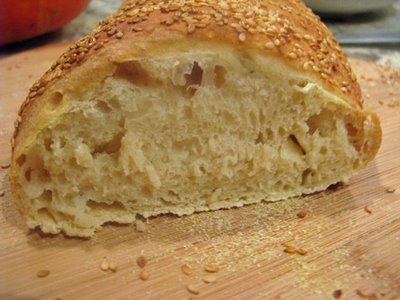 The whole family loved it and requested I make this bread often. One way we like to eat it is sprinkled with olive oil and salt. Bagels are next on my list. It only takes minutes to prepare the Master Recipe from which a variety of artisan breads can be made. This book is definitely a must on every cook's bookshelf.
Book Review: Artisan Bread in Five Minutes a Day

Recipe: Italian Semolina Bread Recipe
Video: How to make the Master Recipe
For more information on the book and to view more videos on how to prepare the Master Recipe, visit the Artisan Bread in Five Minutes a Day web site.