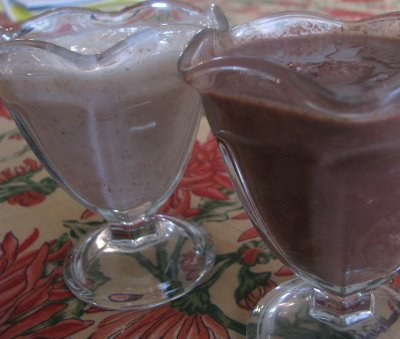 We had the option of making the pudding white, black or both. I am not one to resist anything chocolate, so make both puddings. I usually use Arborio rice to make risotto so I looked forward to try this recipe.
I decided to double the recipe because I know my family loves rice pudding. I have to confess I don't usually make it but occasionally buy the Kozy Shack brand which is creamy and delicious.
For the vanilla rice pudding, I added a half teaspoon of cinnamon. After about an hour of simmering in the milk, the rice had not absorbed most of the milk and it was a bit runny. Since the rice was cooked, I took it off the heat and drained it as much as I could to remove the extra milk. It was still runny after being refrigerated overnight, but nevertheless both the white and chocolate were delicious, Had I read the TWD forums I would have realized that I should have let the rice cook longer.
Thanks to Isabelle for choosing this delicious and easy to make dessert. You can view the recipe at Isabelle's blog. To view the TWD Bakers rice puddings, visit Tuesdays with Dorie.