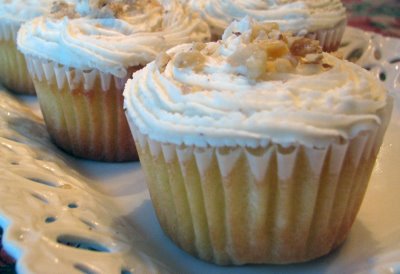 November's Daring Bakers challenge was hosted by Dolores of Culinary Curiosity along with Alex of Blondie and Brownie and Jenny of Foray into Food. The recipe they chose is Shuna Fish Lydon's Caramel Cake with Caramelized Butter Frosting.
First of all, I apologize for being late in posting. The cake and cupcakes were baked by Saturday so I got that right. The rest well…
The key word here is CARAMEL. I had visions of burning the caramel, burning down the kitchen and firemen showing up at my door. With good reason, firemen have shown up at my door for other baking disasters. So, when I was making the caramel I didn't let it reach the amber colour in fear of burning it. Let's say it was a shade or two lighter (right Donna?)
I did bake the cake but for some reason it did not rise much. I didn't really have time to figure out why so I made cupcakes instead. They turned out tasting good – even with the light caramel syrup. I finally frosted what was left of them today and now there are three cupcakes left out of twelve left. A few were eaten to satisfy the 'after school' hunger pangs, and I am sure the rest will be finished by the end of the day.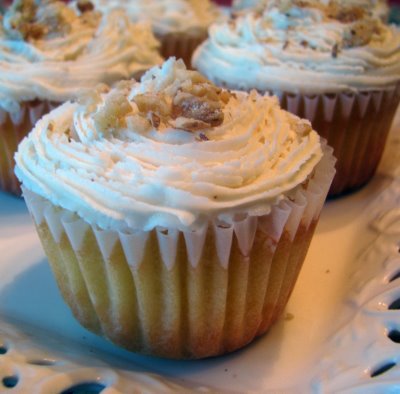 As an added bonus, the Daring Bakers were also invited to make Golden Vanilla Bean Caramels from Alice Merdrich's Pure Dessert. I love caramel, but was not daring enough to try it this at this time; maybe when I conquer my fear of burning down the house.
Thanks to Dolores, Alex and Jenny for hosting this month's challenge and to Shauna Fish Lydon of Eggbeaters for sharing her signature Caramel Cake recipe.
To view the Daring Bakers' Caramel creations, visit the Daring Bakers Blogroll.