Bine aţi venit!
Joan of Foodalogue is hosting this event to raise awareness for BloggerAid in its quest to alleviate world hunger. This week we are meeting in Romania.
Romania is located in Southeastern Europe, bordering the Black Sea, between Bulgaria and Ukraine. The language most spoken is Romanian. The capital city of Bucureşti is also its largest city.
'The decades-long rule of dictator Nicolae CEAUSESCU, who took power in 1965, and his Securitate police state became increasingly oppressive and draconian through the 1980s. CEAUSESCU was overthrown and executed in late 1989. Former Communists dominated the government until 1996 when they were swept from power. Romania joined NATO in 2004 and the EU in 2007. ' –
Source
CIA World Factbook
.
Romania has a special place in my heart. It is the country where my daughters were born. I had the opportunity of spending 9 weeks in Romania in 1991 and it was one of the most enriching experiences in my life. Romania has a rich culture and is one of the most beautiful countries in Eastern Europe. The people I met were warm, friendly and hospitable. Alexandru and his family welcomed me into their home and treated me like one of the family. Since Romanian is a Latin based language and I speak Italian, it wasn't long before I understood some of the language although I could only speak a few words.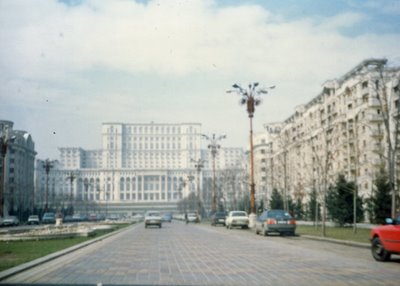 Bucureşti, Romania 1991
I was also introduced to a different type of cuisine which included such dishes such as sarmale (stuffed cabbage), mămăligă (cornmeal or polenta) and mititei (pork and lamb sausages), to name a few. These are the foods that I associate with that special time in my life.
Mititei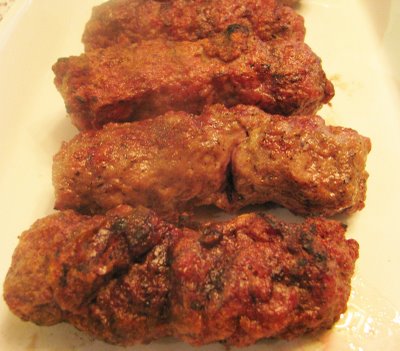 The mititei in the photo were purchased at the Romanian delicatessen in our local market and then were grilled on the barbecue. For an authentic mititei recipe please visit Mamaliga.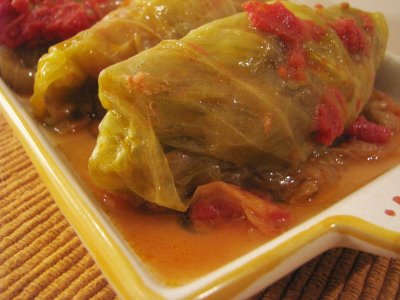 Although I like stuffed cabbage and have made it often, I was not sure whether I would like it made with sour cabbage leaves and cooked layered in sauerkraut. I wanted to keep the recipe as authentic as possible and was thrilled to find the sour cabbage at the same Romanian delicatessen where I bought the mititei. The stuffed cabbage turned out delicious!
Mamaliga
At first I did not know what mamaliga was until my friends served it at dinner. It was polenta. I grew up eating polenta with tomato sauce and cheese but in Romania mamaliga is served with crème fraîche or crumbled feta cheese. Sometimes it is served topped with a fried egg. It does take sometime to make mamaliga, but worth the effort.
Cozonac is a Romanian nut filled sweet bread usually served at Easter and Christmas. I celebrated Easter in Romania in 1991 and have fond memories eating this delicious bread with my Romanian friends.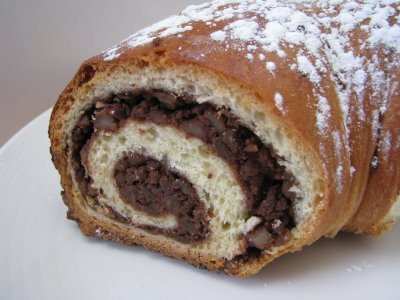 I have so many wonderful memories of Romania. This certainly was a nostalgic tour for me.
Thank you Joan for hosting this event. Visit Joan at Foodalogue on February 16th for the round-up of all the recipe submissions for this tour.
For more Romanian recipes, please visit the following blogs:
Mamaliga
Homecooking
Romania Simply Surprising
Adio!