Today is St. Joseph's Day (la festa di San Giuseppe) and I am sure that Italian pastry shops (pasticcerie) are working over time to make the Zeppole. Zeppole are like a type of doughnut but made with choux pastry. The dough is shaped like a doughnut and can be either fried or baked. Then they are filled with either ricotta, pastry cream or even whipping cream.

There are variations of the recipe in the different regions of Italy.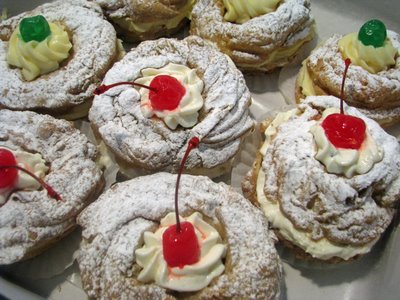 St. Joseph' Day is celebrated to commemorate Joseph, the foster father of Jesus. In Sicily, where my mother is born, it is a huge event. Since my mother's name is Giuseppina (Josephine), she also celebrates her name saint day on this day. My mother is 85 years old and still remembers that on St. Joseph's Day her parents would invite 19 of her friends for supper and to eat Zeppole to celebrate .
Last year I made the Zeppole, but this year, due to lack of time (and organization) I bought them from a wonderful Italian pastry shop, Pastisserie Concorde, located in Laval, Quebec, not too far from where I live. At noon, customers were already lined up at the counter picking up their orders of Zeppole. I bought a mix of ricotta and pastry cream filled Zeppole. After lunch, my mother and I shared a pastry cream Zeppole. They were so fresh tasting and delicious! My mother though said she preferred the way I made them. My mother is such a MOM!!
Auguri to all the Josephs and Josephines. Enjoy the celebration!